I received this book for free from Reviewer Purchase in exchange for an honest review. This does not affect my opinion of the book or the content of my review.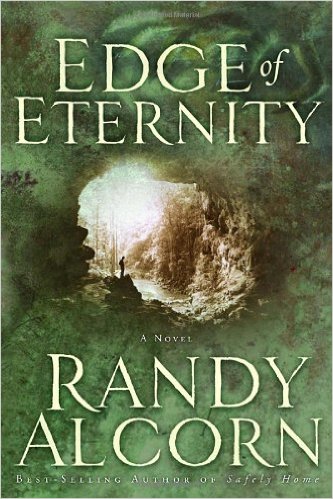 Edge of Eternity
by
Randy Alcorn
Published by
WaterBrook
on 8/10/99
Genres:
Christian
,
Fantasy & Magic
Pages:
336
Format:
Hardcover
Source:
Reviewer Purchase
Buy the Book
•


Imagine Being Pulled Into the Hereafter. While You're Still Alive.
A disillusioned business executive whose life has hit a dead-end, Nick Seagrave has lost loved ones to tragedy and his family to neglect. Now, at a point of great crisis, he unbelievably and inexplicably finds himself transported to what appears to be another world.

Suddenly he's confronted with profoundly clear views of his own past and personality. At the same time, he's enabled to see, hear, taste, and smell the realities of both heaven and hell–realities that force him to face dangers and trials far greater than any he's known before.

Pitted against flying beasts, a monstrous web that threatens to hold him captive, an evil, brooding intelligence, and undeniable evidence of a spiritual world, Nick must finally consider the God he claims not to believe in.

Walking between two worlds, Nick Seagrave prepares to make decisions that will change his life forever, as he stands on the Edge of Eternity.
Edge of Eternity is a gripping, eye-opening novel by Randy Alcorn. From the very beginning this page turner will captivate you, and force you to think about how the smallest decisions you make can impact your everyday life.
This book follows Nick Seagrave a business executive at the height of his career. Although he finds himself successful in all his career endeavors he is unfulfilled having lost everyone he loves to a tragedy or neglect. He awakes one day to find that he has been mysteriously pulled into an alternate world, where things are not as they appear. Presented with clear instructions, Nick sets off en route to a destination sought by many yet obtained by few. During his travels Nick is confronted with his decisions both past and present and has to face the consequences of his actions and the impact they've had on the ones he loves.
This book will not only open your eyes to the world around you but also offer a glimpse into the spiritual world, and the battles that are taking place everyday on our behalf. I thoroughly enjoyed this book and highly recommend it to anyone interested in the realities of life. Not only does Randy Alcorn grab you from the very first page, but this book will keep you guessing and intrigued until the very end. Don't wait, grab a copy now.
Related Posts