Reading in Wonderland's Grand Opening Welcomes the talented Author
Rachel Harris!!
---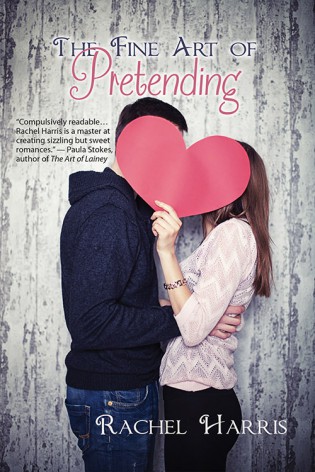 THE FINE ART OF PRETENDING by Rachel Harris
Coming September 2014 by Spencer Hill Contemporary
According to the guys at Fairfield Academy, there are two types of girls: the kind you hook up with, and the kind you're friends with. Seventeen-year-old Alyssa Reed is the second type. And she hates it. With just one year left to change her rank, she devises a plan to become the first type by homecoming, and she sets her sights on the perfect date—Justin Carter, Fairfield Academy's biggest hottie and most notorious player.

With 57 days until the dance, Aly launches Operation Sex Appeal and sheds her tomboy image. The only thing left is for Justin actually to notice her. Enter best friend Brandon Taylor, the school's second biggest hottie, and now Aly's pretend boyfriend. With his help, elevating from "funny friend" to "tempting vixen" is only a matter of time.

But when everything goes according to plan, the inevitable "break up" leaves their friendship in shambles, and Aly and Brandon with feelings they can't explain. And the fake couple discovers pretending can sometimes cost you the one thing you never expected to want.

Amazon US, Barnes and Noble, Amazon UK, Amazon Canada, Amazon.fr, Amazon.de, Amazon.es,Amazon.jp, Books-A-Million,
---
The high school years are all about firsts. First love, first heartbreak, first taste of freedom. You push the boundaries of your relationships, both with your family and with your friends, and you explore. You make a bazillion mistakes, but while they totally seem monumental at the time, very few of them have permanent consequences.
For me, high school gave me a safe environment to test the waters, to step outside my box and see what would happen. I had my first real boyfriend and many others to follow. I went to countless school dances, some with boys, some with friends, some that ended well, and one that ended horribly bad. I went to class and even skipped once to go to an Alanis Morissette concert—though I had parental permission, which severely detracts from the cool factor. I had good friendships…and some not so good ones. I learned from it all.
All of those experiences are still with me today. A decade later, I can close my eyes and remember every detail of my first real heartbreak. The first person my age who had their life taken way too young. Every song that came on the radio, and how I felt when I first heard it.
Perhaps the question should be: Why not write about this time? 🙂
When did you fall in love with writing? 
I've always been a writer in some form—creating crazy play worlds with my friends, writing short, random stories in my diary, pretending boy bands were in love with me…I even wrote soap opera fan fiction in college. But I never really thought I could make a career out of that. Only really cool people who lived in New York and liked coffee could be authors. Not a soda drinking girl in the south. It wasn't until my husband bought me the Twilight series and I fell back in love with reading that I decided I'd try writing another story—just for me. That was in August of 2010 and I haven't looked back since.
Do you have a favorite YA/NA series?
Gayle Forman's IF I STAY and WHERE SHE WENT are two of my top five favorite books ever, so I'd have to go with that J
What is your favorite thing to do outside writing?
I'm a homeschool mom, so snuggling with my kids and reading a great book is definitely at the top of the list. Pretty much anything involving reading tops my list 😉
Name something you cannot stand.
Rudeness
Name something you cannot live without.
It's a tie: Diet Mountain Dew (my sanity in a can) and my iPad J I tote that thing everywhere.
iPad or Surface?
iPad!!
Netflix, Amazon or Hulu?
I watch all three—we hardly watch regular television anymore. It's hard to choose so I'll say Netflix only because I have way too much fun letting "Max" choose movies for me
Favorite TV Show?
I'm a sucker for reality television. I love the Next Food Network Star, Extreme Weight loss, Master Chef, and The Bachelor/Bachelorette
Favorite Dessert?
Chocolate chip cookies
What is the first thing on your bucket list?
Stay in an Irish castle and find a four-leaf clover
Please tell us about your latest or upcoming release.
My upcoming YA release is called THE FINE ART OF PRETENDING and it's about the cute and funny friend who wishes she were the tempting vixen. It's about learning to love the skin you are in and finding that inner self-confidence.
I also just released the third book in my adult contemporary Love & Games series, ACCIDENTALLY MARRIED ON PURPOSE. Country singing superstar meets a wild child southern chica. It's a lot of fun J
Will you be attending any conferences?
I've been to so many this year! I've already attended RT, BEA, UtopYA, RWA, and a few local ones.
Still to come are Chapter by Chapter in New York, the Louisiana Book Festival in November, and Houston Book Rave.
Where can your fans find you online?
I LOVE talking with readers!! For the latest info about my releases and events as well as exclusive excerpts, they can join my Newsletter: http://eepurl.com/olH75
Or they can visit my Website: www.RachelHarrisWrites.com
Find me on Twitter: https://twitter.com/RachelHarrisBks
On Facebook: https://www.facebook.com/RachelHarrisAuthor
Or join my Street Team: https://www.facebook.com/groups/FlirtSquad/
---