I received this book for free from Reviewer Purchase in exchange for an honest review. This does not affect my opinion of the book or the content of my review.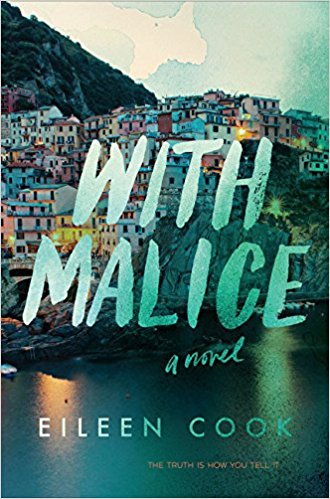 With Malice
by
Eileen Cook
Published by
HMH Books for Young Readers
on 6/7/16
Genres:
Contemporary
,
Mystery & Detective
,
Thrillers
,
Young Adult
Pages:
320
Format:
Paperback
Source:
Reviewer Purchase
Buy the Book
•


Eighteen-year-old Jill Charron's senior trip to Italy was supposed to be the adventure of a lifetime. And then the accident happened. Waking up in a hospital room, her leg in a cast, stitches in her face, and a big blank canvas where the last 6 weeks should be, Jill comes to discover she was involved in a fatal accident in her travels abroad. She was jetted home by her affluent father in order to receive quality care. Care that includes a lawyer. And a press team. Because maybe the accident...wasn't an accident. Wondering not just what happened but what she did, Jill tries to piece together the events of the past six weeks before she loses her thin hold on her once-perfect life.
Short and Sweet
Jill's trip to Italy was supposed to be the time of her life, but when she wakes up in the hospital with no memory of the last six weeks she's confused to learn that she's suspect number one in the murder of her best friend. Now Jill has to try to remember what happened during her time in Italy and prove her innocence.
Characters
Jill: Our main character who doesn't remember anything from her trip to Italy especially the accident. Jill was an okay character, she was frustrated during most of the book because she couldn't remember anything that would be useful to the case. The one thing that bothered me about Jill was the fact that she thought she could never intentionally hurt Simone, like how would you know?
Simone: Jill's best friend, who also went on the trip to Italy but didn't make it back alive. The only thing we really know about Simone was that she was friends with Jill and that her parents thought Jill was the one who always set up the plans that had these two girls up to no good.
Romance
In America Jill does not have a boyfriend from what I read in the book it seems like Jill stayed away from boys like the plague. But you know what happens in Italy stays in Italy unless the boy you were involved with also becomes a suspect in the murder investigation. In Italy Jill met Nico an Italian student who works as a guide for the program Jill is in. We don't really learn much about this relationship because Jill can't remember anything, but we know for sure that these two got together.
My Thoughts
~ My favorite thing about this book was getting to see the police transcripts and learning other people's perspectives on what happened in Italy with Jill and Simone especially because Jill doesn't remember.
~ There's a lot of twists in this book mainly because whenever Jill does feel like she remembers something we don't know if it actually happened or if she was being influenced by what shes reading in the news about the accident.
~ Our setting in the book is a hospital and then a rehab facility that Jill stays in while she recovers. Jill also takes some therapy classes while there and I liked reading about these sessions because Jill tries to dig a little deeper into her feelings and her life.
~ Jill meets Anna in the rehab facility and I liked her character more than Jill. Anna seemed to be a realist and thought logically while Jill seemed to think everything would be okay.
Overall
With Malice was a good book overall, I didn't enjoy the ending that much I wish there was more I feel like it was kind of rushed. I liked that the book had me guessing as to what happened in Italy and we have to piece it together, could Jill murder her best friend or not?