I received this book for free from Publisher in exchange for an honest review. This does not affect my opinion of the book or the content of my review.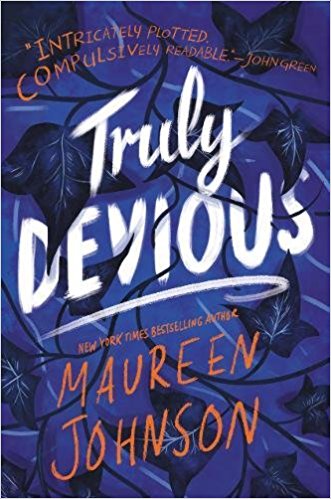 Truly Devious
by
Maureen Johnson
Series:
Truly Devious #1
Published by
Katherine Tegen Books
on 1/16/18
Genres:
Contemporary
,
Mystery & Detective
,
Thrillers
,
Young Adult
Pages:
432
Format:
eARC
Source:
Publisher
Buy the Book
•


Ellingham Academy is a famous private school in Vermont for the brightest thinkers, inventors, and artists. It was founded by Albert Ellingham, an early twentieth century tycoon, who wanted to make a wonderful place full of riddles, twisting pathways, and gardens. "A place," he said, "where learning is a game."

Shortly after the school opened, his wife and daughter were kidnapped. The only real clue was a mocking riddle listing methods of murder, signed with the frightening pseudonym "Truly, Devious." It became one of the great unsolved crimes of American history.

True-crime aficionado Stevie Bell is set to begin her first year at Ellingham Academy, and she has an ambitious plan: She will solve this cold case. That is, she will solve the case when she gets a grip on her demanding new school life and her housemates: the inventor, the novelist, the actor, the artist, and the jokester. But something strange is happening. Truly Devious makes a surprise return, and death revisits Ellingham Academy. The past has crawled out of its grave. Someone has gotten away with murder.
Short and Sweet
Albert Ellingham created Ellingham Academy a private school in Vermont for students who were bright. Tragedy struck when a mysterious person going by the name Truly Devious leaves a riddle for Ellingham, not only that but Ellingham's wife and child were kidnapped and a student was murdered. Now in present day Stevie Bell is ready to attend Ellingham Academy. Stevie loves crimes, mysteries, and is determined to solve the infamous Truly Devious case, but things get complicated when strange things start to occur at Ellingham.
Characters
Stevie: Our main character. I loved Stevie, we don't see many protagonist that are into true crime. Stevie looked at things from all angles and she pieced things together. I was rooting for Stevie to finally solve the case that no one else has been able to.
Janelle: One of Stevie's roommates. Janelle was an inventor and someone Stevie had correspondance with online before they both arrived at Ellingham Academy. Janelle was supportive of Stevie and her interest in solving the murder and I love how sweet she is to everyone she meets.
Nate: One of Stevie's roommates. Nate was a writer and he liked to stay to himself. He was interesting in the fact that you really had to get things out him, but he was a good friend to Stevie when she needed it.
Hayes: One of Stevie's roommates. Hayes was a youtube star and was looking for some new ideas. He didn't mind the attention because any publicity is good publicity.
Ellie: One of Stevie's roommates. Ellie was a second year student and she was very out there. Ellie is an artist and she wasn't shy.
David: One of Stevie's roommates. David was considered the jokester of the group. He was also a second year student.
Romance
Stevie and David: Opposites attract and thats what happened with these two. David got on Stevie's nerves and to retaliate she would come up with sly remarks. I didn't like the two of them together it just didn't feel right.
Janelle and Vi: We don't get to know the details of their relationship but we do see them in a few scenes and it was cute.
Quotes
~ "Games are not fun when you don't know you're playing."
~ "Stevie had no fears of the dead. The living, however, sometimes gave her the creeps."
My Thoughts
~ Truly Devious, goes back and forth between the present and when the school first opened, so we get an insight on Albert Ellingham's life and what occurred the day his wife and child went missing. It also helps to understand more about the past to understand what Stevie sees and knows about the mystery.
~ We don't get enough clues to solve the mystery on our own but its understandable especially if this is a trilogy and this first book is building up to something.
~ I loved the characters but Stevie, Janelle, and Nate were my favorite. Probably because those three were first year students so they could bond about that.
~ I was more invested in the Truly Devious mystery than the mystery occurring in the present mainly because there was more information on that than on the one currently taking place.
~ One aspect I loved was the police reports from the past, we also get different POVs when reading the chapters about the first mystery. In the present chapters we get Stevie's POV only
Overall
This book was exactly what I needed to get out of my reading slump! I loved it and I need book two right now! The book just ended when things were starting to come together and left me with a major cliffhanger. I definitely recommend this book if you love mysteries and crime, you even get two mysteries for the price of one!