I received this book for free from Publisher in exchange for an honest review. This does not affect my opinion of the book or the content of my review.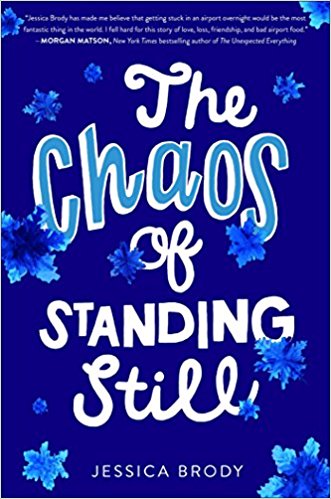 The Chaos of Standing Still
by
Jessica Brody
Published by
Simon Pulse
on 11/28/17
Genres:
Contemporary
,
Young Adult
Pages:
416
Format:
eARC
Source:
Publisher
Buy the Book
•


Over the course of one chaotic night stranded at the Denver airport, Ryn confronts her shattered past thanks to the charm of romance, the uniqueness of strangers, and the magic of ordinary places in this stunning novel from the author of Boys of Summer.

Ryn has one unread text message on her phone. And it's been there for almost a year.

She hasn't tried to read it. She can't. She won't. Because that one message is the last thing her best friend ever said to her before she died.

But as Ryn finds herself trapped in the Denver International Airport on New Year's Eve thanks to a never-ending blizzard on the one-year anniversary of her best friend's death, fate literally runs into her.

And his name is Xander.

When the two accidentally swap phones, Ryn and Xander are thrust into the chaos of an unforgettable all-night adventure, filled with charming and mysterious strangers, a secret New Year's Eve bash, and a possible Illuminati conspiracy hidden within the Denver airport. But as the bizarre night continues, all Ryn can think about is that one unread text message. It follows her wherever she goes, because Ryn can't get her brialliantly wild and free-spirited best friend out of her head.

Ryn can't move on.

But tonight, for the first time ever, she's trying. And maybe that's a start.
Short and Sweet
All Ryn wants to do is make it back home before New Years, but after a snow storm hits Denver she realizes that she'll have to stay in the airport overnight. While at the airport Ryn meets some new companions and confronts the past that she's been avoiding for over a year.
Characters
Ryn: Our main character. I didn't mind her she was a good main character. There was a lot she was dealing with especially since it was so close to the anniversary of her best friends death. All Ryn wants to do is go home before she even has to think of Lottie's death. You can tell that Ryn has PTSD and is still trying to figure out how to cope with it.
Lottie: Ryn's dead best friend. Lottie shows up as kind of a conscience in Ryn's mind or sometimes a figment in her imagination. You can tell that during the flashbacks and just by the way Ryn talks about Lottie that she was the wild one in their friendship the one that took risks. I liked Lottie she usually popped up when Ryn was making decisions or needed a little push to have some fun.
Xander: A boy Ryn meets at the airport and her love interest. Xander was all about having some fun while being stuck in the airport. He's also just trying to make it back home while avoiding something that recently happened to him.
Romance
Ryn and Xander: Love at first sight? No. They're first interaction occurred because Ryn wasn't paying attention and bumped into him and they ended up trading phones, because what do you know they both have the same phone case. At this point Ryn just wants her phone back and wants to avoid Xander because she still has hope that she can get home on time. When it finally hits Ryn that she'll be stuck in the airport, Lottie shows up and gives her a push to go hangout with Xander in the meantime. Xander wants to have some fun and during the course of the day he does get Ryn to loosen up a little. These two have their guards up and are trying to avoid talking about certain things which does at some points strain their relationship. Over the course of the book both of them realize that they need to face their past but on their own terms.
My Thoughts
~ This book was so much fun! I actually live in Denver and I'm very familiar with DIA and I think Brody was spot on when writing about the airport. I would love to be able to stay in the airport overnight and do some of the things Ryn and Xander did like surfing on the train or going to a party in the hotel.
~ Xander isn't the only person Ryn meets in the airport she also meets Siri and Jimmy both of them work at a burger place in the airport and Ryn also meets Troy who she somehow becomes responsible for. These minor characters were quirky and fun in their own way and they also brought out Ryn's fun side.
~ I loved the flashbacks not only do we get to really see Lottie through Ryn's eyes but we also get to see what happened on the day that Lottie died.
~ Ryn uses Google as a coping method, she googles things she wants the answers to so that things don't seem unknown to her. I thought it was interesting to see some of the things she would google like, "how do revolving doors work?"
~ We also have the mystery of what was said in the final text that Lottie sent to Ryn. Ryn believes that if she doesn't open the text that she'll be keeping a piece of Lottie alive. Brody's writing just shows how lonely Ryn became when Lottie died and its heartbreaking.
Overall
The Chaos of Standing Still is heartbreaking, hilarious, hopeful, and shows us that moving on may not be so bad after all. The plot was amazing and the cast of characters is one you don't want to stop reading about I loved how things were wrapped up in the end. This is a book that I won't stop thinking about anytime soon!