I received this book for free from Reviewer Purchase in exchange for an honest review. This does not affect my opinion of the book or the content of my review.
This book may be unsuitable for people under 17 years of age due to its use of sexual content, drug and alcohol use, and/or violence.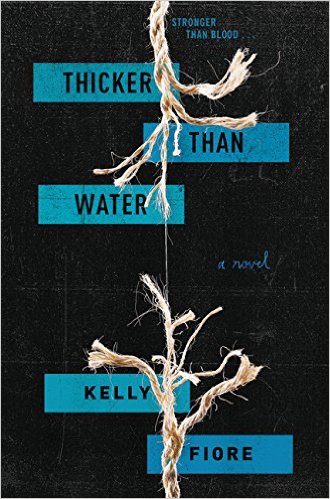 Thicker Than Water
by
Kelly Fiore
Published by
HarperTeen
on 1/5/16
Genres:
Contemporary
,
Mystery & Detective
,
Thrillers
,
Young Adult
Pages:
320
Source:
Reviewer Purchase
Buy the Book
•


Cecelia Price killed her brother. At least, that's what the police and the district attorney are saying. Although CeCe is now locked up and forced into treatment, she knows the story is much more complicated. Cyrus wasn't always a drug-addled monster. He used to be a successful athlete, but when an injury forced Cyrus off the soccer field and onto pain medication, his life became a blur of anger, addiction, and violence.

All CeCe could do was stand by and watch, until she realized an effective way to take away her brother's drugs while earning the money she needed for college: selling the pills. Only she never expected what happened next.
Short and Sweet
Cecelia "CeCe" Price used to be a honor roll student at school. After watching her brother Cyrus get hooked on pain medication, CeCe decides to take some of her brothers pills and sell them. When Cyrus dies, the district attorney is convinced CeCe murdered him. Now, CeCe is in a juvenile treatment facility awaiting the court case that will determine the rest of her life as she struggles to accept her roles, both active and inactive, in the events that led to her brother's death.
My Thoughts
~ Thicker Than Water is told in alternating time periods and in this book it worked. Seeing all the events that led CeCe to where she is now, was pretty intriguing especially, because we don't actually know how Cyrus died until we get towards the end of the book. It just added to the suspense and my interest.
~ I felt pretty bad for CeCe, she felt extremely guilty about Cyrus' death and his drug use even though she didn't have control over that.
~ There was some romance in the book, but not a lot. I thought that Tucker was a good love interest for CeCe, mainly because he was more like a friend, and was willing to listen to her problems even if she wasn't ready to share them.
Overall
The message in this book is deep, Fiore does a great job portraying how drug addiction not only affects the user but the people around them. I really liked CeCe and I could understand why she felt the way she did. I really love this book and I finished it in a few days, I would definitely recommend it!