I received this book for free from Reviewer Purchase in exchange for an honest review. This does not affect my opinion of the book or the content of my review.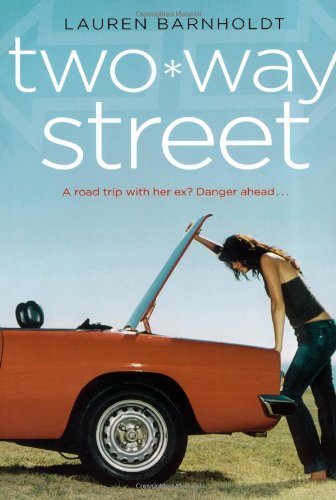 Two Way Street
by
Lauren Barnholdt
Published by
Simon Pulse
Source:
Reviewer Purchase
Buy the Book
•


there are two sides to every breakup.

This is Jordan and Courtney, totally in love. Sure, they were an unlikely high school couple. But they clicked; it worked. They're even going to the same college, and driving cross-country together for orientation.

Then Jordan dumps Courtney -- for a girl he met on the Internet.

It's too late to change plans, so the road trip is on. Courtney's heartbroken, but figures she can tough it out for a few days. La la la -- this is Courtney pretending not to care.

But in a strange twist, Jordan cares. A lot.

Turns out, he's got a secret or two that he's not telling Courtney. And it has everything to do with why they broke up, why they can't get back together, and how, in spite of it all, this couple is destined for each other.


When I first started reading this book, I was sure that my review would be scathing. Both the hero and heroine were annoying me. Between repetitive words or phrases and the constant mention of MySpace (this title was published in 2007), I wanted to throw it across the room. The book, I mean. There was one of the phrases that annoyed me, "I mean". I understood what you meant the first time.
I would have played a drinking game for  each time I had to read "I mean" or "MySpace," but I'm afraid a couple chapters of that and I'd be wasted.
I will say, as the story progressed, it did get better. I did come to like the characters a bit better. Not a lot, but a bit.
There are lines like this, that made me :/
"We've reached her locker now, and she starts to turn the combination dial. She's biting her lip while she does it, and I suddenly have the urge to reach over and bite it for her. Her lip. Not her locker. God, I'm losing it."
Did anyone really think he meant her locker? :/
I don't feel that Courtney or Jordan had much character growth. They were much the same throughout the book. I especially don't feel that Courtney had any growth. She was the same from beginning to end. With Jordan, I do think he realized in the end that what he did was a mistake and knew he needed to do things differently going forward.
Unfortunately, while I did come to like the book more when I finished than when I started, I can't recommend it. It's not a title I will reread. There is a companion novel, Right of Way, which I am tempted to look into, but only to see what happens to not only Courtney and Jordan, but also their friends Jocelyn and B.J.