I received this book for free from in exchange for an honest review. This does not affect my opinion of the book or the content of my review.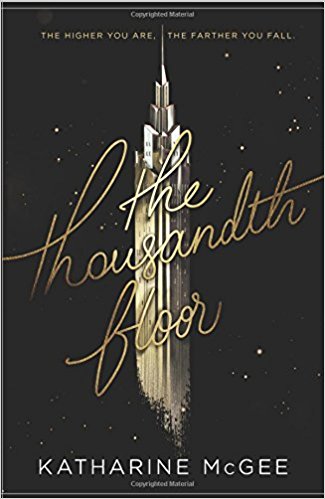 The Thousandth Floor
by
Katharine Mcgee
Series:
The Thousandth Floor #1
Published by
HarperCollins
on 8/30/16
Genres:
Dystopian
,
Romance
,
Science Fiction
,
Young Adult
Pages:
448
Format:
Paperback
Buy the Book
•


New York City as you've never seen it before. A thousand-story tower stretching into the sky. A glittering vision of the future, where anything is possible—if you want it enough.

Welcome to Manhattan, 2118.

A hundred years in the future, New York is a city of innovation and dreams. But people never change: everyone here wants something…and everyone has something to lose.

Leda Cole's flawless exterior belies a secret addiction—to a drug she never should have tried and a boy she never should have touched.

Eris Dodd-Radson's beautiful, carefree life falls to pieces when a heartbreaking betrayal tears her family apart.

Rylin Myers's job on one of the highest floors sweeps her into a world—and a romance—she never imagined…but will her new life cost Rylin her old one?

Watt Bakradi is a tech genius with a secret: he knows everything about everyone. But when he's hired to spy by an upper-floor girl, he finds himself caught up in a complicated web of lies.

And living above everyone else on the thousandth floor is Avery Fuller, the girl genetically designed to be perfect. The girl who seems to have it all—yet is tormented by the one thing she can never have.
Short and Sweet
In The Thousandth Floor we follow the lives of 5 teenagers who live in a supertower. Manhattan 2118 is full of things that scream future, but even though some of these teens seem to have it all when we delve deeper into their lives and discover things aren't as they seem. Secrets and drama bring these teens together and also tear them apart.
Characters
Avery: The girl who lives on the thousandth floor and seems perfect to all of her friends. Avery seems to have it all but there's one thing she can't have and that's the boy she's lived with her entire life. Avery was a good character she was looking out for her friends and tried to help them with their problems for the most part but she does end up having a falling out with one of them.
Leda: Leda is one of the highliers and just recently came home from a rehab facility for a problem with pills. She doesn't tell anyone where she's been for the summer, she's also trying to get over a boy or maybe shes still trying to get with him. Guys! Leda is nuts! I mean I don't think I've ever read a character like her she is insane and I'm not exaggerating. She's spiteful always trying to get revenge and only looking out for herself. She also hires someone to keep tabs on the boy she likes, full on stalker status.
Eris: Another one of our highliers, Eris also seems to have it all until a secret tears apart her family. She goes from living at the top of the tower to going down to floor 103. She tries to keep this a secret for most of the book for the fear that her friends would start treating her different.
Rylin: Rylin does not live an extravagant life she lives on one of the lower floors trying to make money and living paying paycheck to paycheck to take care of her younger sister. One day she ends up getting an opportunity to work for someone who lives in a higher floor in the tower and it changes her life.
Watt: Watt also lives in the lower floors of the tower. Watt is a tech genius and has an illegal computer in his brain which helps give him information on everybody and helps him with his hacking.
Romance
Avery and Atlas: Okay, I can't stand this couple at all! Atlas is Avery's adopted older brother and this whole relationship just felt wrong to me. Literally apparently she's loved him her whole life and I thought she would move on with someone other than her brother but no. It felt like lust and not love.
Avery and Watt: Watt meets Avery and seems to impress her with how much he seems to actually care about her. Watt actually has feelings for Avery, and I thought Avery had feelings for him to but the more I read the more I felt like she was just using poor Watt to make Atlas jealous.
Leda and Atlas: One night in the Andes and Leda's life was changed forever now she's obsessed with Watt and is trying to spend as much time as possible with him even if the way she goes about it is creepy.
Rylin and Hiral: Rylin's boyfriend from one of the lower floors, they've been together since middle school but their relationship becomes strained when Rylin starts working for Cord on the upper floors.
Rylin and Cord: Cord is a highlier and hires Rylin as a maid, they begin to have feelings for each other and things just take off from there.
Eris and Cord: Eris and Cord would just hook up and then one night Cord decided to end it.
Eris and Mariel: Mariel is Eris' neighbor from one of the lower floors, This was one of my favorite relationships Mariel teaches Eris that living on the lower floors isn't as bad as she thinks they also had a really great chemistry, even though they did have some ups and downs related to how differently they were raised.
Quotes
~ "I believe in happiness. I'm just not sure love will actually get you there."
My Thoughts
~ So when we start this book we learn that someone has fallen from the top floor but we don't find out who until the end of the novel.
~ The pace is kind of slow but it makes sense when we have 5 povs to read from and these characters stories all seem to weave together.
~ There's so much going on with all of the characters in this book it was entertaining and had me hooked, I will say after reading chapters from each pov it gets easier to remember who is who and what's going on in their life.
~ Let me give you guys some information about Atlas, he's Avery's adopted brother and he decided he was going to run away and travel the world and just comes waltzing back into the tower like he was never gone, he's actually quite secretive so that's basically all we know about him.
~ I didn't have a favorite character in this book mainly because they all did something that annoyed me but if I did have to pick on I didn't like it would be Leda hands down, like whatever drug she was taking was strong because her behavior in this book was crazy.
~ I wish we got to see more of Mariel in this book she seemed to be sensible and she wasn't dragged into the drama that was going in around her mainly because she only knew Eris and didn't get to meet any of the other characters.
Overall
I loved reading this book and plan on continuing with this series! The way this book ended just left me wanting more, we find out who was killed and then there's some blackmailing going on to keep what really happened that night a secret and I can't wait to see how things will end up turning out!