I received this book for free from Reviewer Purchase in exchange for an honest review. This does not affect my opinion of the book or the content of my review.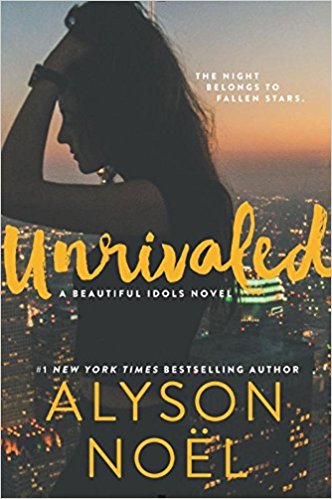 Unrivaled
by
Alyson Noel
Series:
Beautiful Idols #1
Published by
Katherine Tegen Books
on 5/10/16
Genres:
Contemporary
,
Mystery & Detective
,
Romance
,
Young Adult
Pages:
432
Format:
eBook
Source:
Reviewer Purchase
Buy the Book
•


Everyone wants to be someone. Layla Harrison wants to be a reporter. Aster Amirpour wants to be an actress. Tommy Phillips wants to be a guitar hero.

But Madison Brooks took destiny and made it her own a long time ago.

She's Hollywood's hottest starlet, and the things she did to become the name on everyone's lips are merely a stain on the pavement, ground beneath her Louboutin heel.

That is, until Layla, Aster, and Tommy find themselves with a VIP invite to the world of Los Angeles's nightlife and lured into a competition where Madison Brooks is the target. Just as their hopes begin to gleam like stars through the California smog, Madison Brooks goes missing. . . . And all of their hopes are blacked out in the haze of their lies.
Short and Sweet
We follow Aster, Layla, and Tommy as they work as promoters for Hollywood's hottest night clubs. Only one will win the competition, each of them thinks this will help kick start their careers.
Characters
Layla: A wannabe reporter trying to make it to a journalism school in New York, she also had a blog where she wrote about celebrities.
Aster: Aster wants to be an actress and this not follow her parents dreams of her either being a doctor or a lawyer. Aster thinks this competition will bring her stardom.
Tommy: A boy from a small town in Oklahoma who moved to LA to start his music career.
Madison: Hollywood's "It girl" who has a mysterious past.
Ira Redman: Owner of the clubs.
Romance
Okay so first I'll start with actual relationships and then move to hookups.
Layla and Mateo: They were in a relationship before the Layla joined the competition, but their relationship becomes strained the more Layla focuses on the competition and not Mateo.
Madison and Ryan: So both of these characters are celebrities. This relationship was set up by their agents hoping to get both of them some more publicity. You can tell from the beginning that this relationship isn't working, they're both basically using each other, not the kind of relationship where you would look at them and say, "aw they're so in love!"
Aster and Ryan: I don't even know where to start with this. This was one of those things where the girl knows that the guy has a boyfriend but the guy was like no no I don't really like the person i'm in a relationship with. So basically these two hooked up and it was front page news.
Layla and Tommy: These two just shared a drunken kiss on the dance floor.
Quotes
~ "I came here to win, same as you. And that's exactly what I intend to do."
My Thoughts
~ There are four POVs and I feel like once you read through all of them in the first couple of chapters, it's not hard to keep up with which one you're reading. There wasn't a particular person I liked reading more than the other mainly because each of them was exciting and held my interest. each character had something going on in their lives outside of the competition.
~ The competition was changing everyone's life and we get to see how far they'll really go just to win. You can even see some of the characters losing themselves and even though they knew right from wrong they were in it to win it.
~ Each character was unique and different in their own ways they each came from a different walk of life. I feel that Aster and Layla went through more character development than Tommy did.
~ So the mystery aspect of the book didn't take part until the 65% point. And this isn't a spoiler but I feel like there is still so much that was unanswered and I hope most of those questions are answered in the next book, Blacklist.
~ Madison was an interesting character, she's mysterious and I want to know more about her. I'm sure everyone in the book wants to know more about her. Madison's past is a mystery in and of itself and what she's hiding must be big.
~ I thought the competition aspect was okay. There were three nightclubs and each main character worked in one and they had teams. At the end of the week someone would go home.
Overall
This was a really solid book I loved it and it was exactly what I needed to get me out of my slump. It's fast paced and full of secrets, lies, blackmailing, and mystery. This book held my attention from the very beginning to the end. Definitely recommend it!