I received this book for free from Publisher in exchange for an honest review. This does not affect my opinion of the book or the content of my review.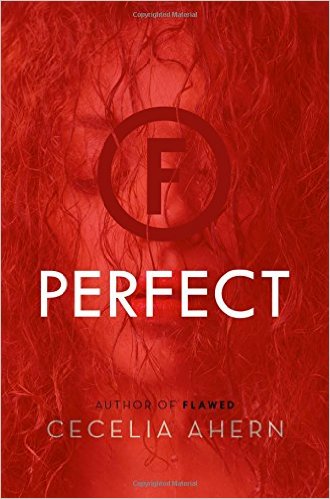 Perfect
by
Cecelia Ahern
Series:
Flawed #2
Published by
Feiwel & Friends
on 4/4/17
Genres:
Dystopian
,
Science Fiction
,
Young Adult
Pages:
352
Format:
eARC
Source:
Publisher
Buy the Book
•


Celestine North lives in a society that demands perfection. After she was branded Flawed by a morality court, Celestine's life has completely fractured--all her freedoms gone.

Since Judge Crevan has declared her the number one threat to the public, she has been a ghost, on the run with Carrick--the only person she can trust.

But Celestine has a secret--one that could bring the entire Flawed system crumbling to the ground. A secret that has already caused countless people to go missing.

Judge Crevan is gaining the upper hand, and time is running out for Celestine. With tensions building, can she prove that to be human in itself is to be Flawed?
Short and Sweet
Perfect starts off two weeks later from where Flawed ended. Celsetine is now in hiding and is considered to be an evader. Celestine has to figure out who she can trust, and how she can bring down Crevan, the flawed system, and the Guild.
Characters
Celestine: Our main character who is on the run. She's smart but she thinks with her heart when she should be thinking with her head.
Carrick: A fellow flawed. Who is supportive of the flawed movement and is trying to help Celestine, but he also has motives of his own.
Romance
There is a bit of a love triangle in this book, between Celestine, Carrick, and Art. I didn't like it at all. Honestly, Carrick was helping Celestine and while I did question his motives he did genuinely care about her. And we do see Art again and we get a bit of a surprise when we see him in this book. It's not surprising that she would still have feelings for Art but I think Celestine needed to make up her mind. I find it rude that she would even question going back with one guy after the other guy has risked so much to help her.
Quotes
"I thought I was smart, but I'm not smart enough."
"It was a bus that I lost my faith in humanity. It was on a bus that it was restored."
My Thoughts
~Let me start off by saying I did enjoy this book a lot more than the first.
~ I loved that Celestine was on the run this time and she couldn't really trust anyone. I liked that she was in survivor mode. In Flawed she was banking that her relationship with Crevan would get her out of her predicament.
~ We get to know more about Carrick in this book, he played a bigger part in this book. He helped Celestine get away from whistleblowers on more than one occasion.
~ We also meet a few more flawed people who are on board to help Celestine mainly because they're ready to be treated equally in this society.
~ I liked how everything came full circle and how people tried to help Celestine and how she kind of had a plan and how she usually stayed one step ahead the people who were trying to stop her.
~A few people helped Celestine that we wouldn't expect. Which was interesting it had me worrying about if these people would be caught.
~ One thing that bothered me was how stubborn Celestine was, like I said above she thinks with her heart most of the time and not with her head. She had me frustrated sometimes with the way she would almost ruin a plan because she was being stubborn.
Overall
Perfect is a great ending to this duology. It had me on the edge of my seat worrying about how things would turn out and if Celestine would be able to accomplish what she set out for. The ending was good it had me guessing at what scenario would happen. I would recommend this book, I definitely think this book is better than the first but to get to this book you have to read Flawed, just so everything will make sense.