I received this book for free from Reviewer Purchase in exchange for an honest review. This does not affect my opinion of the book or the content of my review.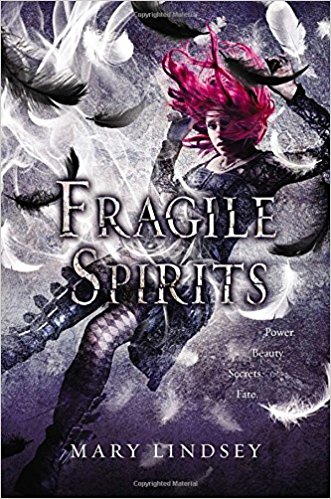 Fragile Spirits
by
Mary Lindsey
Series:
Souls #2
Published by
Philomel Books
on 1/23/14
Genres:
Fantasy & Magic
,
Paranormal
,
Romance
,
Young Adult
Pages:
320
Format:
Hardcover
Source:
Reviewer Purchase
Buy the Book
•


Paul has always known he was a Protector, fated to serve a Speaker who could hear the voices of spirits lingering after death and help those souls find peace.



Vivienne ignores the voices of the dead.
Paul has always followed the Protector's rule book, preparing diligently for the day when he'd be matched with his Speaker and fulfill his destiny.

 Vivienne never does what she's told.

So when Paul is matched with Vivienne, they both find the pairing less than satisfactory. But a kidnapping, a malevolent spirit and a power stronger than both of them may just prove that they are two halves of the same whole.
Short and Sweet Reviews
When Paul finally gets to meet his speaker Vivienne, she's not what he expected at all. Paul follows the rules right out of the book and Vivienne she just like to go to the beat of her own drum. When the two get together to start helping souls find peace it's a pretty rocky start, but as soon as they get to know each other things start going smoothly. This book is the sister novel to Shattered Souls. Most of the characters from the first book are in this one. The relationship between Paul and Vivienne really makes the book, (opposites attract). I love how this book involves characters from the last book. The ending was really good I loved it I especially loved it how everyone works as a team. If there is another book in this series I would buy it. I would recommend this book to anyone who likes Paranormal, and Romance.