I received this book for free from Reviewer Purchase in exchange for an honest review. This does not affect my opinion of the book or the content of my review.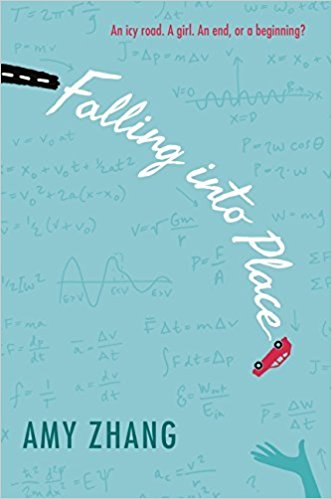 Falling Into Place
by
Amy Zhang
Published by
Greenwillow Books
on 9/9/14
Genres:
Contemporary
,
Realistic Fiction
,
Young Adult
Pages:
304
Format:
Paperback
Source:
Reviewer Purchase
Buy the Book
•


She would be an object in motion that would stay in motion, even if it meant flattening everything in her path.

One cold fall day, high school junior Liz Emerson steers her car into a tree. Why? Why did Liz Emerson decide that the world would be better off without her? Why did she give up? This haunting, nonlinear novel pieces together the short and devastating life of Meridian High's most popular junior girl. Mass, acceleration, momentum, force—Liz didn't understand it in physics, and even as her Mercedes hurtles toward the tree, she doesn't understand it now. How do we impact one another? How do our actions reverberate? What does it mean to be a friend? To love someone? To be a daughter? Or a mother? Is life truly more than cause and effect?
Liz Emerson has been in an accident of her own doing, which began long before she ran her car into a tree. We go from present to past and back again to delve into Liz's life and that of her friends, Julia and Kennie, to see how actions and interactions have the power to impact ourselves and those around us.
Amy Zhang has written a raw and mesmerizing story that'll have you loving and hating Liz Emerson and her two best friends. They come across as typical superficial high school girls, but we come to see them as multi-layered characters who came to be a product of circumstance.
Falling Into Place is emotional and comes across as true to life. I'd recommend to not just YA readers but to those who have been or are now where Liz Emerson found herself, thinking the world would be better off without them. Engaging and heartfelt, readers will continue to ponder on this story even after the end.
Related Posts