I received this book for free from Publisher in exchange for an honest review. This does not affect my opinion of the book or the content of my review.
This book may be unsuitable for people under 17 years of age due to its use of sexual content, drug and alcohol use, and/or violence.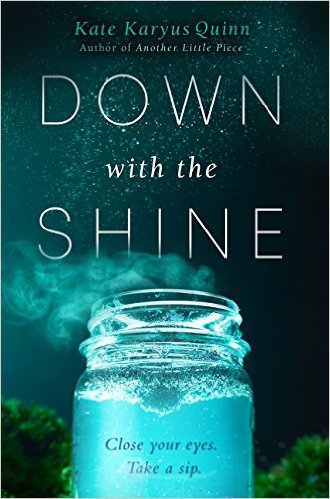 Down with the Shine
by
Kate Karyus Quinn
Published by
HarperTeen
on 4/26/16
Genres:
Fantasy & Magic
,
Young Adult
Pages:
368
Format:
eARC
Source:
Publisher
Buy the Book
•


Think twice before you make a wish in this imaginative, twisted, and witty new novel from the author of Another Little Piece.

When Lennie brings a few jars of her uncles' moonshine to Michaela Gordon's house party, she has everyone who drinks it make a wish. It's tradition. So is the toast her uncles taught her: "May all your wishes come true, or at least just this one."

The thing is, those words aren't just a tradition. The next morning, every wish—no matter how crazy—comes true. And most of them turn out bad. But once granted, a wish can't be unmade . . .
Short and Sweet
Lennie has the power to grant wishes she just doesn't know it, until she goes to a party with her uncles' moonshine. At the party Lennie toasts to everyone's wishes and learns that all of these wishes have consequences that come with them. Lennie then has to find a way to make everything right again.
What I liked
~Lennie, she was a strong character and was determined to fix her mistakes.
~The moonshine that grants wishes was an interesting concept to me.
What I didn't like
~Some of the humor was off to me.
~The romance was NOT working for me. It was like when you force someone to spend a lot of time with you but you guys still don't like each other and then you realize you do like each other and ten minutes later you decide you actually don't like them. Yeah it was something like that.
Overall
I can't decide whether to give this book 3 or 3.5 hearts. The ending was pretty good, but there were still some aspects I didn't like. In the end Down With The Shine definitely supports the phrase, "be careful what you wish for!"