I received this book for free from Publisher in exchange for an honest review. This does not affect my opinion of the book or the content of my review.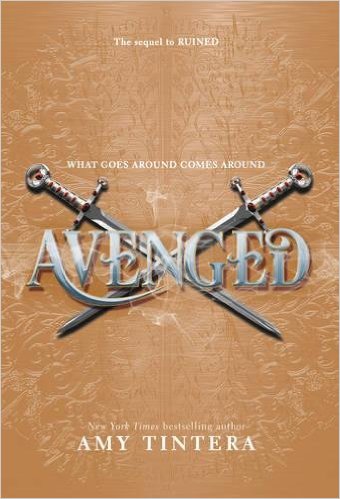 Avenged
by
Amy Tintera
Series:
Ruined #2
Published by
HarperTeen
on 5/2/17
Genres:
Action & Adventure
,
Fantasy & Magic
,
Romance
,
Young Adult
Pages:
416
Format:
eARC
Source:
Publisher
Buy the Book
•


Emelina Flores has come home to Ruina. After rescuing her sister, Olivia, from imprisonment in rival kingdom Lera, Em and Olivia together vow to rebuild Ruina to its former glory.

But their fight has only begun. Olivia is determined to destroy everyone who acts against Ruina. Em isn't as sure. Ever since Em posed as Prince Casimir's betrothed in Lera, she's started to see another side to this war. And now that Cas has taken the throne, Em believes a truce is within reach. But Olivia suspects that Em's romantic feelings for Cas are just coloring her judgement.

Em is determined to bring peace to her home. But when winning the war could mean betraying her family, Em faces an impossible choice between loyalty and love. Em must stay one step ahead of her enemies—and her blood—before she's the next victim in this battle for sovereignty.
Short and Sweet
Emelina and Olivia Flores go back to their kingdom of Ruina and vow to rebuild it to its former glory. But alliances are shifting and figuring out what to do and who to trust is just the beginning.
Characters
Emelina: One of the queens of Ruina who is willing to do what is best for her people. Emelina is way more level headed than Olivia, which I'll get into a little later.
Olivia: The other queen of Ruina who is also willing to do what is best for her people but in a very different way than her sister. Olivia is back with a vengeance, she is not happy which is understandable she was kept prisoner but she will kill anyone who gets in her way. "You're weak!" she screamed again.
Cas: Prince of Lera who is fighting for his throne, because his cousin Jovita and some of his people have turned against him.
Aren: The second strongest Ruined who is Emelina and Olivia's friend. Aren struggles in this book with being angry and killing with Olivia, because he understands her anger or with being level headed with Emelina and showing compassion towards people.
*We get to read from all of these characters POVs.
Romance
There is two romances in this book that I feel are worth mentioning.
Emelina and Cas: They developed a bond in the first book Ruined and they still have feelings for each other even though their people don't like the match. I love these two together I think it would work, I mean she did pretend to be someone else but all the feelings they have for each other are genuine. "I'm very reasonable. Em says it's one of my best qualities."
Aren and Iria: Iria is a warrior from the Olso army. Okay this is a match I didn't see coming but the more I read the more I liked it. Aren needed someone who wasn't a ruined who could understand what he was going through and show him compassion and Iria was the right person. She risked it all for him and his feelings for her changed over the course of the book and he showed his feelings more and I loved it!
Quotes
~ "We take. We will take the throne, we will take responsibility, and we will crush anyone who defies us. Got it?"
~ "It sounds like you're about to die."
~ "The Ruined don't betray each other."
My Thoughts
~ There is so much going on this book and it's amazing, I couldn't put this book down.
~ In Ruined Emelina aligned with the Olso kingdom to help her rescue her sister and attack the kingdom of Lera. Now that Em and Olivia are back in Ruina the warriors are back and along with them is August, the youngest prince of Olso. He proposes a marriage to Em and thats when things get complicated.
~ Em still has feelings for Cas and he still has feelings for Em. I mean they are technically married but he thought he was married to someone else and not one of the heirs of Ruina.
~ Olivia is intense! She will literally kill anyone who gets in her way provoked or not. I think she likes it shes like a killing machine snapping necks left and right. Olivia doesn't like Cas and believes that Em's love for him is causing her to make the wrong decisions.
~ I felt bad for Cas in this book. He's trying to be with Em which is difficult because the Ruined don't like the Lerans and she has to put her people before him, and his cousin Jovita is making things hard for him with his own people. Jovita convinces the Lerans who are staying in the fortress that Cas is going crazy and she temporarily takes over. Cas now has to figure out who is by his side and how to get his rightful place on the throne back.
~ I also liked Violet she is the governors daughter of the Southern Providence. She was also a strong female character and was loyal and willing to help Cas when most people weren't.
~ I was worried about Olivia and Em, its like oil and water. When they got back to Ruina they proposed a diarchy. They're so different Olivia is angry and thinks she can just take anyone out who gets in her way while Em thinks she can talk things out with people and try to make things better without so much bloodshed.
~ I loved getting to know more about Aren and seeing him struggle between what was right and what was wrong. His bond with Iria just made me smile it was cute and the relationship building was amazing.
Overall
I LOVED this book! It was amazing and it makes my want the next book so bad. I need to know whats going to happen next! I couldn't put this book down and it didn't end in a big cliffhanger but it still left me wanting to know what Em is going to do! Avenged was a great sequel and I definitely recommend this series its one of my favorites. You have to pick up Ruined if you haven't and then get Avenged they don't disappoint!