I received this book for free from Reviewer Purchase in exchange for an honest review. This does not affect my opinion of the book or the content of my review.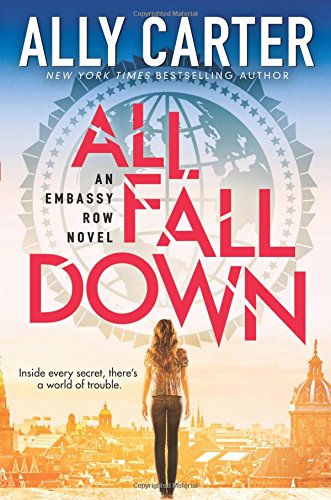 All Fall Down
by
Ally Carter
Series:
Embassy Row #1
Published by
Scholastic Press
Genres:
Contemporary
,
Mystery & Detective
,
Young Adult
Source:
Reviewer Purchase
Buy the Book
•


A new series of global proportions -- from master of intrigue, NEW YORK TIMES bestselling author Ally Carter.

Grace Blakely is absolutely certain of three things:

1. She is not crazy.
2. Her mother was murdered.
3. Someday she is going to find the killer and make him pay.

As certain as Grace is about these facts, nobody else believes her -- so there's no one she can completely trust. Not her grandfather, a powerful ambassador. Not her new friends, who all live on Embassy Row. Not Alexei, the Russian boy next door, who is keeping his eye on Grace for reasons she neither likes nor understands.

Everybody wants Grace to put on a pretty dress and a pretty smile, blocking out all her unpretty thoughts. But they can't control Grace -- no more than Grace can control what she knows or what she needs to do. Her past has come back to hunt her . . . and if she doesn't stop it, Grace isn't the only one who will get hurt. Because on Embassy Row, the countries of the world stand like dominoes, and one wrong move can make them all fall down.
Ally Carter's first Embassy Row novel All Fall Down is rife with political intrigue, snarky teenagers, a murder mystery and a possible romance that may unite or ruin nations.  Phew, that is a lot to pack into one novel but Ms. Carter does it well.  Grace Blakely is a smart-mouth army brat who has been around the world but now she's back with the grandfather she hasn't seen in three years.  Her grandfather is the United States Ambassador to the foreign nation of Adria.  As soon as she arrives in Adria, Grace is bombarded with memories of her deceased mother.  Everyone is convinced her mother died in a fire but Grace believes she was murdered and is determined to find the killer.
I really enjoyed Grace. She made me laugh and I felt empathy for her.  Of course, I could not get enough of her and the Russian Ambassador's son Alexei.  There are some serious sparks between them! I liked most of the secondary characters especially the friends Grace met quickly upon arriving in Adria. At times I felt the memories were too much. The mystery as to the murder of Grace's mother ended surprisingly, which doesn't happen often.  I was a bit disappointed with the ending but I still would like to read book two in the series.