I received this book for free from Reviewer Purchase in exchange for an honest review. This does not affect my opinion of the book or the content of my review.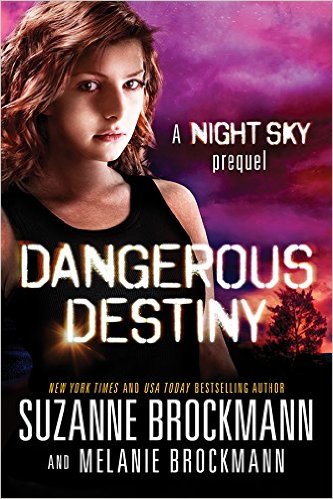 Dangerous Destiny
by
Melanie Brockmann
,
Suzanne Brockmann
Series:
Night Sky Novella
Published by
Sourcebooks Fire
on 8-26-2014
Genres:
Paranormal
,
SciFi
,
Thrillers
,
Young Adult
Pages:
121
Source:
Reviewer Purchase
Buy the Book
•


In this pulse-pounding prequel to the Night Sky series by New York Times and USA Today bestselling author Suzanne Brockmann and her daughter Melanie Brockmann, Skylar has her first brush with Destiny. She's about to meet a boy who will change her life—and a girl who wants to end it.

I know her.
Know her from inside the dreams. Inside those terrible, murderous, bloody dreams. I've heard her-screaming, her voice mixing in an awful chorus with all those other girls. Little girls.
Please, God.
That's what one of the little girls keeps saying, in the dream that is not just a dream. Please, God.
But I know better. There's no escaping this fate. This is destiny.
I must kill Skylar.

Skylar Reid is the new girl at school. Her mom just moved them to Florida—aka The Land of the Living Dead where the average age of her new neighbors was seventy-five—to start over. Skylar is not a fan of the change or her total lack of friends. Until she meets Calvin, a funny, sarcastic boy who doesn't let being in a wheelchair stop him from verbally shredding their preppy classmates. Skylar's just about to decide her new school's not a total loss when an odd girl wearing an oversized trench coat in the murderous Southern heat declares, "You're one of us." And then tries to kill her.

Don't miss out on YA's most thrilling new series.
Dangerous Destiny is a prequel to the Brockmann's first book in their young adult series,

Night Sky

.  Dangerous Destiny takes us into the life of Skylar Reid.  Skylar and her mother have just moved to Coconut Key, Florida.  Sky is not happy about the move one bit but it's obvious this tough cookie can roll with the punches.  This turns out to be a good thing since her first few days of school end in gun fire.
Dangerous Destiny is so exciting your heart will pound out of your chest!  I love when I become so absorbed in a book that I forget the page numbers as I plunge from one to the next so fast!  The only bad thing is the book is over way too soon! I swear I screamed "Nooooooooo" when I found myself shockingly on the final page of Dangerous Destiny!  I immediately let my fingers take me to Amazon and ordered the first book in the series, Night Sky!
Dangerous Destiny

is almost perfect! I give it

Four

Wonderland Hearts

!
Dangerous Destiny

is

FREE on Amazon at the time of posting!
Related Posts