I received this book for free from Reviewer Purchase in exchange for an honest review. This does not affect my opinion of the book or the content of my review.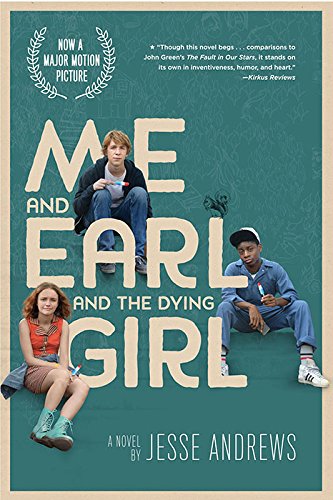 Me and Earl and the Dying Girl
by
Jesse Andrews
Published by
Amulet Books
Source:
Reviewer Purchase


It is a universally acknowledged truth that high school sucks. But on the first day of his senior year, Greg Gaines thinks he's figured it out. The answer to the basic existential question: How is it possible to exist in a place that sucks so bad? His strategy: remain at the periphery at all times. Keep an insanely low profile. Make mediocre films with the one person who is even sort of his friend, Earl.

This plan works for exactly eight hours. Then Greg's mom forces him to become friends with a girl who has cancer. This brings about the destruction of Greg's entire life.

Fiercely funny, honest, heart-breaking—this is an unforgettable novel from a bright talent, now also a film that critics are calling "a touchstone for its generation" and "an instant classic."
I love reading books before they come out in theaters so when I saw the trailer for this movie I knew I had to read the book. This is probably my favorite book of 2015. Me and Earl and the Dying Girl isn't your typical book about someone with cancer. Greg Gaines struggles with trying to figure out how to be a friend to Rachel. Greg and his friend Earl make films for fun and when they decide to make a film for Rachel it becomes a turning point in all of their lives. This book was a rollercoaster of emotions for me it was funny and sometimes I would cry but when I finished this book I definitely had a smile on my face this book is amazing. I would recommend this book and I plan on watching the movie when it comes out this month. Everyone should check this book out you won't regret it!
Related Posts