I received this book for free from Author in exchange for an honest review. This does not affect my opinion of the book or the content of my review.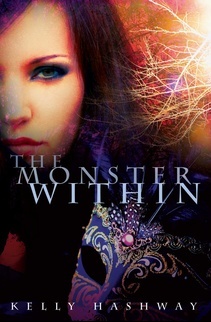 The Monster Within
by
Kelly Hashway
Published by
Spencer Hill Press
on 2014-04-08
Genres:
Fantasy & Magic
,
Greek & Roman
,
Legends, Myths, Fables
,
Young Adult
Pages:
296
Source:
Author
Buy the Book
•
Goodreads
Reviewed by Dani

The moment seventeen-year-old Samantha Thompson crawls out of her grave, her second chance at life begins. She died of cancer with her long-time boyfriend, Ethan, by her side -- a completely unfair shot at life. But Ethan found a way to bring her back, like he promised he would. Only Sam came back wrong. She's now a monster that drains others' lives to survive. And after she kills, she's tortured by visions -- glimpses into her victims would have- been futures had she not killed them. Barely able to live with herself and trying to make things right, Sam ends up a pawn in a vicious game of payback within the local coven of witches. But when the game reveals what Ethan had to do to save Sam, she must make a choice that will change all their lives forever.
The Monster Within is about a girl named Samantha who comes back to life four days after she died from cancer. Her boyfriend is the one who brought her back, but whenever she asks how he did it he refuses to tell her. Samantha and Ethan move to a small town because they can't go back home. The first night at there new place is when Sam realizes something isn't right with her. To stay alive Sam has to suck the life out of other people. The book started out good, I was interested in finding out what Sam would do now that she has to drain the life out of people to stay alive as well as how Ethan brought her back. I did not like Sam at all. She made decisions that weren't smart, and I can't even keep track of how many lies she told. And it just bothered me that Ethan just wouldn't tell her what he did to bring her back until the very end. I did like the fact that when she did kill someone she would get to see their futures and what their lives would have been like if she didn't kill them. I found myself putting this book down a few times. I'm not sure if I would read the sequel.

Related Posts