I received this book for free from Reviewer Purchase in exchange for an honest review. This does not affect my opinion of the book or the content of my review.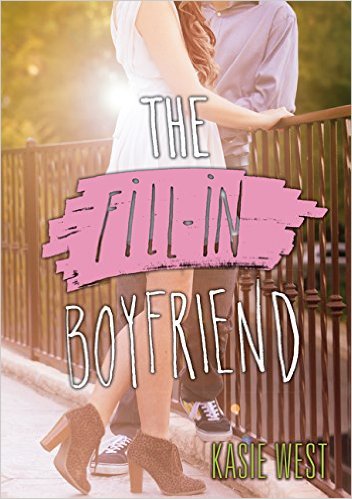 The Fill-In Boyfriend
by
Kasie West
Published by
HarperTeen
on 5/5/15
Genres:
Contemporary
,
Romance
,
Young Adult
Pages:
352
Format:
Paperback
Source:
Reviewer Purchase
Buy the Book
•


When Gia Montgomery's boyfriend, Bradley, dumps her in the parking lot of her high school prom, she decides to do the unthinkable…convince the cute guy waiting to pick up his sister to pretend to be her boyfriend for the night. The task is simple: two hours, zero commitment, a few white lies.

The problem is that days after prom, she can't stop thinking about her fill-in boyfriend. But can Gia turn her fake boyfriend into a real one without exposing her lie and possibly destroying her friendships and her newfound relationship?
Short and Sweet Review
When Gia's boyfriend, Bradley dumps her in the parking lot before walking into the prom Gia has to think fast and she decides to have a cute guy in the parking lot to be her boyfriend. Everything is fine until a few days later Gia realizes she can't get him out of her head, now Gia wants to make her fill-in her actual boyfriend, but will this decision expose her lies or ruin her friendships? Bradley dumping Gia was clearly a big deal mainly because none of her friends have met Bradley and there's a new girl in her group of her friends that seems set on bringing Gia down, after being dumped Gia worries that her friends will think she was lying about her relationship. Gia than finds Hayden and asks him to be Bradley for the sake of not looking like a liar in front of her friends. Gia finds her self falling for Hayden, which I didn't mind at all they were cute together and had great chemistry. I liked the whole plot of this book Gia finding Hayden and pretending that he's her boyfriend and falling for him and having to deal with feeling like her friends were being taken away from her. It was interesting seeing how Gia would handle all of the situations that were thrown her way. I found this book to be cute, I love all of Kasie West's books! This book is perfect to read during the summer, its light cute, and full of fluff, pick it up and read it!
Related Posts