I received this book for free from Publisher in exchange for an honest review. This does not affect my opinion of the book or the content of my review.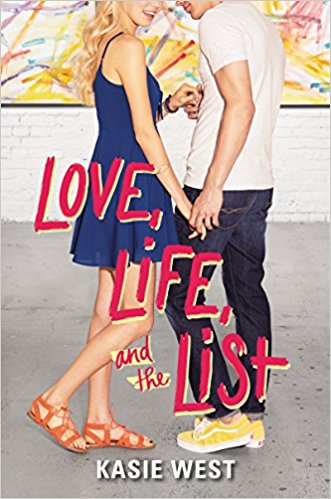 Love, Life, and the List
by
Kasie West
Published by
HarperTeen
on 12/26/17
Genres:
Contemporary
,
Romance
,
Young Adult
Pages:
384
Format:
eARC
Source:
Publisher
Buy the Book
•


Seventeen-year-old Abby Turner's summer isn't going the way she'd planned. She has a not-so-secret but definitely unrequited crush on her best friend, Cooper. She hasn't been able to manage her mother's growing issues with anxiety. And now she's been rejected from an art show because her work "has no heart." So when she gets another opportunity to show her paintings, Abby isn't going to take any chances.

Which is where the list comes in.

Abby gives herself one month to do ten things, ranging from face a fear (#3) to learn a stranger's story (#5) to fall in love (#8). She knows that if she can complete the list, she'll become the kind of artist she's always dreamed of being.

But as the deadline approaches, Abby realizes that getting through the list isn't as straightforward as it seems . . . and that maybe—just maybe—she can't change her art if she isn't first willing to change herself.
Short and Sweet
Abby Turner is an artist and her goal is to make it into an art program. The only way Abby can do this is by getting her pieces into an art show and thats where the list comes in. Abby believes that the list will help her become a better artist and put more emotion into her work. With the help of her best friend Cooper who she also has a crush on, Abby is determined to finish the list, become a better artist, and maybe get Cooper to like her back.
Characters
Abby: Our main character. I loved Abby, she was determined to get what she wanted and she worked hard to get it. She deals with a lot in her home life, her father is in the military and is away and her mom has anxiety which seems to be getting worse. Abby was sweet and sarcastic very sarcastic but I liked it she was an enjoyable character to follow.
Cooper: Abby's best friend and crush. Abby and Cooper do almost everything together and I loved their friendship they told each other almost everything, I also loved how he was so willing to help Abby with her list. Cooper was laid back and fearless and a good friend.
Lacey: Lacey is a friend that Abby makes over the summer and I loved Lacey too! She and Abby haven't known each other long but it was like she was meant to be in Abby's life. Lacey is an actress and Abby is an artist so they both understood each other on that level of having a passion for something.
Romance
Abby and Elliot: So Abby and Elliot have met before but didn't really start hanging out until this summer when they meet at a restaurant and then again at a grocery store. Both of them are artist and liked talking to each other about their art. I thought they were cute but they were better off as friends.
Cooper and Iris: Iris is a girl that Cooper meets at the beach. Iris is one of those girls that seems nice when Cooper is around but would change whenever she was left with Abby. We don't really see many interactions with Cooper and Iris but we do know that they go on a couple of dates.
Abby and Cooper: This relationship is interesting. We learn that Abby has professed her love for Cooper but he didn't feel the same way so she just played it off as if she was joking. And now this summer their quartet becomes a duo when two of their friends leave on vacation. Now its just Abby and Cooper and Abby still has feelings for him but it still doesn't seem like he feels the same way. I really liked the two of them together especially after seeing how close they were as friends.
My Thoughts
~ Here's my favorite thing about the book… the list! There were ten things on the list and all of these things were supposed to help Abby become a better artist by helping her add depth and emotion to her work. Abby learned a stranger's story, tried five new things, and faced a fear, I can't tell you if she fell in love or not you'll just have to read the book.
~ I also love how Abby went out of her comfort zone when it came to the list. She picked one thing she admired about each person in her life and tried to incorporate it into the list.
~ Abby's family was amazing too. They were supportive of her and believed that she could get into the art show. Abby's grandpa is just as sarcastic as her which was great. We also learn more about Abby's mom and her anxiety and how it got to the point its at now. Abby's dad is also in the book through emails and phone calls.
Overall
This book was cute and enjoyable! It made me smile and laugh and it didn't take long to read. I've loved each of the books by Kasie West that I've read and this one is now different. West knows how to write with emotion and it makes the book and characters so real. I love this book and recommend it for anyone who loves contemporaries, art, and maybe your best friend!