I received this book for free from Reviewer Purchase in exchange for an honest review. This does not affect my opinion of the book or the content of my review.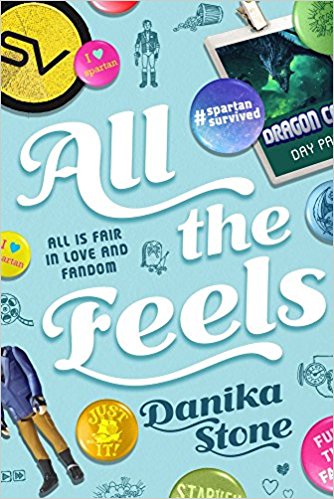 All The Feels
by
Danika Stone
Published by
Swoon Reads
on 6/7/16
Genres:
Contemporary
,
Realistic Fiction
,
Romance
,
Young Adult
Pages:
336
Format:
Paperback
Source:
Reviewer Purchase
Buy the Book
•


College freshman Liv is more than just a fangirl: The Starveil movies are her life. When her favorite character is killed off, Liv Just. Can't. Deal. She launches an online campaign to bring her hero back to life. Step one: Bribe her best friend, Xander, into helping by making costumes for his steampunk cosplay. Step two: Balance her booming fandom life with school, parental disapproval, and her (nonexistent) love life. Maybe a trip to Dragon Con with Xander would help?
Short and Sweet Review
Liv is a college freshman and a fangirl of the Starveil franchise. Her heart is shattered when her favorite character is killed off, now Liv is determined to bring him back with the help of her fellow fans, Starveil fandom, and her best friend Xander. I enjoyed this book it was short, light, and a quick read. I found it interesting to read because of her love for this franchise and seeing how Liv interacted with the fandom online, I also liked how Xander wasn't into the movies like Liv, but was into steampunk. I loved Xander he was quirky and he looked out for Liv and was the sweetest person to her. Liv was a good character too I found it funny how she was moping around because of Spartans death but she was determined to change that I thats what I liked the most about her. I felt bad that her mom didn't understand why Liv loved Starveil so much, it was her only connection with her now deceased father. Liv continued to pursue her passion even though there was that disapproval lingering from her mom. I liked the transitions in the book, we get to see Liv in Boulder, and then follow her during her spring semester, and then her and Xander go to Dragon Con in Atlanta. Xander and Liv's friendship made me swoon I loved them so much, they made a cute couple in the end and I was so happy! This book is cute and I would recommend it! We get fandom and steampunk and friendships and the life of a college student, pick this book up!