I received this book for free from Reviewer Purchase in exchange for an honest review. This does not affect my opinion of the book or the content of my review.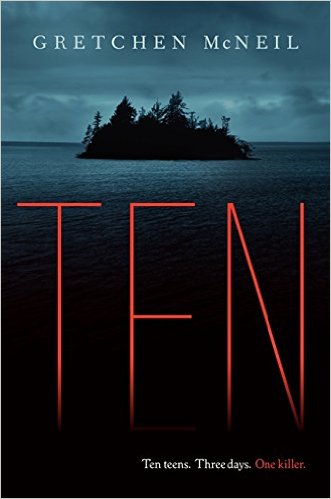 Ten
by
Gretchen McNeil
Published by
Balzer + Bray
on 9/17/13
Genres:
Horror & Ghost Stories
,
Mystery & Detective
,
Thrillers
,
Young Adult
Pages:
320
Format:
Paperback
Source:
Reviewer Purchase
Buy the Book
•
Goodreads


It was supposed to be the weekend of their lives—an exclusive house party on Henry Island. Best friends Meg and Minnie are looking forward to two days of boys, booze, and fun-filled luxury. But what starts out as fun turns twisted after the discovery of a DVD with a sinister message: Vengeance is mine. And things only get worse from there.

With a storm raging outside, the teens are cut off from the outside world . . . so when a mysterious killer begins picking them off one by one, there's no escape. As the deaths become more violent and the teens turn on one another, can Meg find the killer before more people die? Or is the killer closer to her than she could ever imagine?
Short and Sweet
Ten is the story of ten teenagers who are invited to a secret house party on a secluded island over the course of a three-day weekend. Expecting to have a fun time at the party, best friends Meg and Minnie decide to go, despite Meg's reservations. When the two arrive at the island and party house, things begin to go awry. After watching a video ending with a chilling message, "Vengeance is mine.", the teenagers start getting picked off one by one by an unknown killer, and at this party, there's no one you can trust.
What I Liked
~ Ten Teens on an island for three days and one killer that they have to avoid. Its so good and the suspense and having to try to avoid a killer on an island, there's not a lot of places you can hide.
~There were some twist that I wasn't expecting and let me tell you the killer is one smart cookie.
~Meg is a very likeable character. She's always there for her friends, always wants to help out, and her instincts were on point. Especially when it comes to murders around her she didn't do anything idiotic that would get her killed.
What I Didn't Like
~This question is irrelevant when it comes to this book.
Overall
TEN is one of my favorite novels! If you want a novel with secrets and betrayals, shocking moments and terrifying conclusions, TEN is definitely the book you should buy and read!
Related Posts