I received this book for free from Publisher in exchange for an honest review. This does not affect my opinion of the book or the content of my review.
This book may be unsuitable for people under 17 years of age due to its use of sexual content, drug and alcohol use, and/or violence.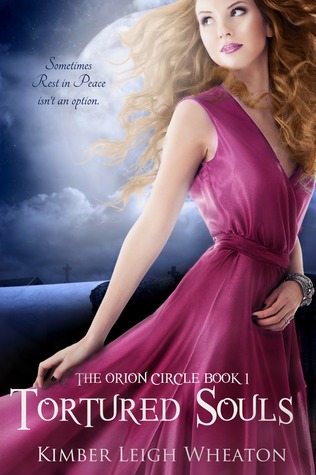 Tortured Souls
by
Kimber Leigh Wheaton
Series:
The Orion Circle #1
Published by
Sea Dragon Press
Genres:
Young Adult
Source:
Publisher
Buy the Book
•
Reviewed by Dani

Kacie Ramsey sees ghosts—and it's ruining her life. Her mother left, her father blames her, and no matter how hard she tries, she can't keep the ghosts away. Now a new power has emerged. Nightly visions of grisly murders and a relentless predator draw her to the brink of insanity.
When the phantom appears at a party, Kacie's longtime crush, Logan, saves her. He invites her to join the Orion Circle, a group of supernatural hunters with chapters in schools all over the country. Through the Circle, Kacie learns to embrace her spiritual powers, and for the first time in her life she feels in control rather than a victim. But the Foxblood Demon will not give up so easily. A demented serial killer in life who trapped the souls of the thirteen children he murdered, imprisoning them within the walls of his mansion. Now in death, he plots his return while drawing power from the pure souls of the children. He recognizes something in Kacie he's never seen before—a medium powerful enough to provide a vessel for his tainted soul. Kacie can't ignore the tortured souls of the children crying out to her every night. With Logan at her side, she will fight the Foxblood Demon. But can they banish this powerful phantom, or will Kacie lose not only her body, but her eternal soul to the monster.
Tortured Souls is about a girl named Kacie who can see ghosts. Kacie finds out she's not the only one when Logan sees a spirit following her. Logan then introduces Kacie to the Orion Circle a group of students at her school that are supernatural hunters. Kacie feels at home with the group but there is still a spirit after her and she has to stop it before it claims her body. I really enjoyed this book. It was creepy at times but it was a fun read. I liked the relationship between Kacie and Logan, he was always there for her and supporting her. I also liked the members of the Orion Circle. The one thing I didn't like was when Kacie would be immature about some things. I'm looking forward to the rest of the books in this series.

Related Posts