I received this book for free from Publisher in exchange for an honest review. This does not affect my opinion of the book or the content of my review.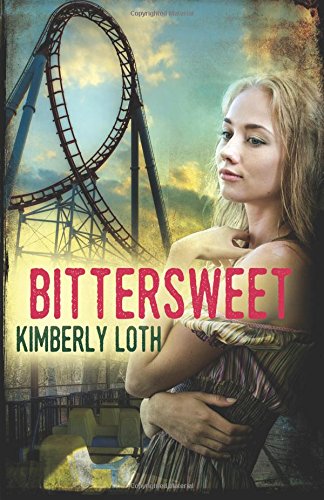 Bittersweet
by
Kimberly Loth
Published by
Createspace Independent Pub
on 3/14/15
Genres:
Contemporary
,
Romance
,
Young Adult
Pages:
200
Source:
Publisher
Buy the Book
•


Every Sunday Savannah Ray gets an email from her dead dad. She doesn't know how the emails work but she's finally ready to start looking for answers. To find those answers she has to go to the one place she swore she'd never set foot in after he died—Haunted Valley, the amusement park. Once there and on the hunt for answers she is distracted by the charming Dallas and falls hard for him. When the answers she finds aren't what she expected and Dallas betrays her, Savannah must make a choice—succumb to the insanity that destroyed her father or find the strength to rise above it.
"Every Sunday Savannah Ray gets an email from her dead dad" Because that's not creepy at all. Savannah's dad took his life two years ago on a rollercoaster ride and since that moment she's stayed away from something they both loved: amusement parks. When the summer of her 18th birthday comes, she still feels numb, her dads death left her empty. So her mother decides to send her to work at her uncle's amusement park, hoping Savannah will learn about responsibility and maturity. But Savannah doesn't want anything to do with her uncle and doesn't care about her mother's wishes. All she care about is her passion for European chocolates and not breaking the connection with her father that somehow is keeping his promise with sending her emails every Sunday. It sounds like a good premise, right? How is she going to deal with her father's death? Where are the emails coming from? Wrong!
The synopsis leads you to think that she is going to the amusement park to find who's behind those emails when actually she doesn't want to know it because she's afraid it'll stop. Its not a mystery which is what I was hoping for you find out who's sending those emails in the beginning of the book. I wanted to like this book because of the premise but I was left feeling pretty disappointed. It was hard for me to like Savannah she was mean and she whined a lot. This isn't a book I would reread or recommend to my friends.
Related Posts