I received this book for free from Reviewer Purchase in exchange for an honest review. This does not affect my opinion of the book or the content of my review.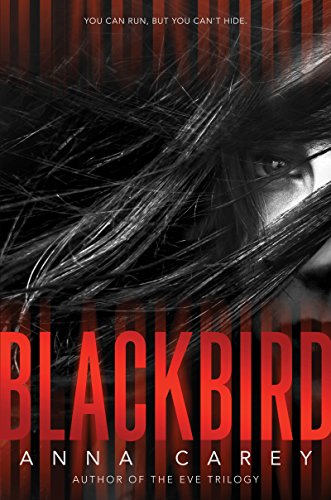 Blackbird
by
Anna Carey
Series:
Blackbird Duology #1
Published by
HarperTeen
on 9/16/14
Genres:
Contemporary
,
Mystery & Detective
,
Thrillers
,
Young Adult
Pages:
256
Format:
Hardcover
Source:
Reviewer Purchase
Buy the Book
•


When a nameless girl wakes up on the subway tracks, she knows only one thing for sure: people want her dead. Can she find them before they track her down? This pulse-pounding contemporary thriller is perfect for fans of The Maze Runner, The Darkest Minds, and Legend.

Things I Know Are True:

I am in Los Angeles
I woke up on the train tracks at the Vermont/Sunset station
I am a teenage girl
I have long black hair
I have a bird tattoo on the inside of my right wrist with the letters and numbers FNV02198
People are trying to kill me
Short and Sweet Review
A nameless girl wakes up on train tracks and has no memory of how she got there or who she is, all she knows is that she has this strange tattoo and that people are after her. Now she's on the run and trying to figure out who she is. The main protagonist is "you" because the book is written in second person, but she tells people her name is Sunny. While trying to figure out who Sunny actually is we follow her around Los Angeles, she has a list of directions to follow and a knapsack full of things she may need. Sunny is already being looked for by police because she was on the train tracks but she then becomes wanted after being set up in an office building, after that is when things start to pick up. I enjoyed seeing how smart Sunny was and how good she was at evading those who were after her and watching her slowly get her memory back. Sunny meets Ben who becomes one of the only people she trusts and he was a romantic interest for her. The book ended on a cliffhanger which I didn't like because I thought I would get more answers. Blackbird was interesting but I couldn't stand the second person, I had to push myself to get through it because of this I can't decide if I would want to read Deadfall or not. Overall it was a good book, it was short and interesting but the second person is kind of a deal breaker for me.
Related Posts