I received this book for free from Reviewer Purchase in exchange for an honest review. This does not affect my opinion of the book or the content of my review.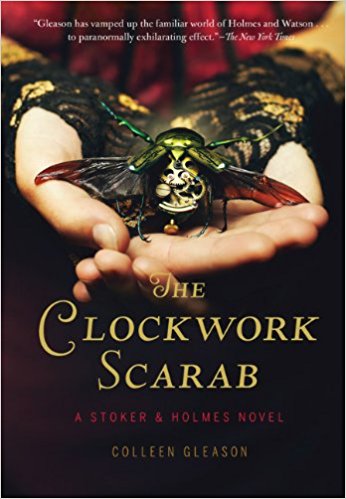 The Clockwork Scarab
by
Colleen Gleason
Series:
Stoker & Holmes #1
Published by
Chronicle Books
on 9/17/13
Genres:
Fantasy & Magic
,
Historical
,
Mystery & Detective
,
Science Fiction
,
Young Adult
Pages:
356
Format:
Hardcover
Source:
Reviewer Purchase
Buy the Book
•


Evaline Stoker and Mina Holmes never meant to get into the family business.

But when you're the sister of Bram and the niece of Sherlock, vampire hunting and mystery solving are in your blood. And when two society girls go missing, there's no one more qualified to investigate.

Now fierce Evaline and logical Mina must resolve their rivalry, navigate the advances of not just one but three mysterious gentlemen, and solve a murder with only one clue: the strange Egyptian scarab. The stakes are high.

If Stoker and Holmes don't unravel why the belles of London society are in such danger, they'll become the next victims.
Short and Sweet Review
Mina Holmes is the niece of Sherlock and Evaline Stoker is the younger sister of Bram. These girls live two totally different lives, Mina has the same great observation and deduction skills that her uncle has, and Evaline has strength and quickness which helps her to fight vampires. The girls meet at the British Museum and meet Irene Adler, who informs them of a mystery. The mystery being young women who have either disappeared or have been found murdered. Both Evaline and Mina have to work together to stop the evil that is going on throughout London. These two girls did not mesh Mina thought that Evaline was impulsive and Evaline thought that Mina was a know it all. I enjoyed this book it's so different, its a steampunk novel that takes place in London. The mystery itself kept me on my toes we get to see a bit of Egyptian mythology as well. There's a lot of character development in this book and though we do get to meet male characters they're not the focus of the book. I love mysteries and this one was so interesting the steampunk aspect and the two main characters. This book is worth reading!
Related Posts