I received this book for free from Publisher in exchange for an honest review. This does not affect my opinion of the book or the content of my review.
This book may be unsuitable for people under 17 years of age due to its use of sexual content, drug and alcohol use, and/or violence.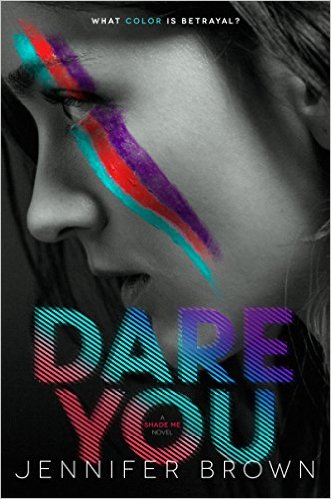 Dare You
by
Jennifer Brown
Series:
Nikki Kill #2
Published by
Katherine Tegen Books
on 2/14/17
Genres:
Mystery & Detective
,
Young Adult
Pages:
480
Format:
eARC
Source:
Publisher
Buy the Book
•


Nikki Kill becomes embroiled in another mystery with the gorgeous Detective Martinez when she discovers that the Hollises are trying frame her for the murder of Peyton Hollis—and only her synesthesia can help her unravel the dark truth.

Nikki Kill didn't realize that trying to find out who killed Peyton Hollis would tangle her in a web of dangerous family secrets that would rock her identity to the core. But now that Nikki knows the truth, the all-powerful Hollises want to frame her for Peyton's murder.

And now Nikki's only chance at escaping the cold black bars of prison or the crimson grip of death is teaming up with the enigmatic Detective Martinez and relying on an ever-shifting kaleidoscope of clues...
Short and Sweet
After what happened in Shade Me, Nikki learns that the Hollis family is trying to frame her for Peyton's murder. Now Nikki has to team up with detective Martinez to try to clear her name.
Characters
Nikki: Our main character who uses her synesthesia to try to find clues to help clear her name. Nikki has changed a little since we've seen her in Shade Me, she's a little more paranoid as she should be since what she went through.
Detective Martinez: The detective from Shade Me who is now trying to help Nikki find clues about who is framing her for Peyton's Murder.
Romance
I felt a connection between Nikki and Martinez but Martinez was dating someone and I just want that relationship to happen but time will tell.
My Thoughts
~Dare You picks up right where Shade Me left off. Nikki is graduating and trying to move on from what happened with the Hollis family but it's hard when strange things start happening and Nikki learns that the Hollis family is trying to blame her for Peyton's murder.
~ I love seeing Nikki and Detective Martinez team up again their dynamic is so amazing especially because there's a connection there.
~ I don't think there's any books like this one. How many YA characters do you know with synesthesia? It's such an interesting condition to learn more about and I like seeing how Nikki sees the world differently because of it.
~ There's so much that goes on in this book, trying get the evidence to actually prove that Nikki is innocent, we learn more about Nikki's mom, and we meet some new characters good and bad.
~ At some points I was worried about Nikki I mean people were coming for her and Luna Fairchild is crazy. I mean I was worried about Luna Fairchild coming for me.
Overall
This is one of my FAVORITE series hands down! I love mysteries and if you do too pick up this book! This series needs to be read in order for the plot and everything to make sense. The ending isn't much of a cliffhanger but there are still answers we need questions to. I need book three!
Related Posts