I received this book for free from Publisher in exchange for an honest review. This does not affect my opinion of the book or the content of my review.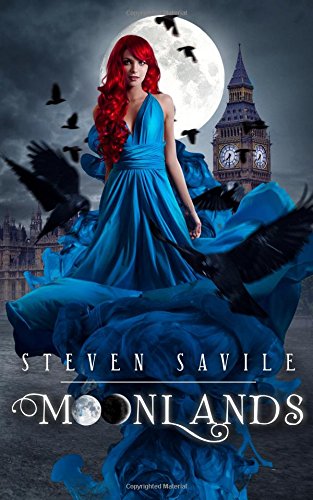 Moonlands
by
Steven Savile
Published by
BadPress
on 3/6/15
Genres:
Fantasy & Magic
,
Paranormal
,
Young Adult
Pages:
485
Source:
Publisher
Buy the Book
•


Ashley Hawthorne thinks of herself as the Cuckoo Girl. No matter where she is it feels like she doesn't quite belong.

Everything changes when her eccentric aunt, Elspeth Grimm, leaves her the key to a safety deposit box in a bank that was destroyed during the Blitz. That box contains the first part of her true inheritance: an umbrella, a battered old notebook, a pair of aviator's goggles and a locket. Each of these gifts is a unique part of who she really is.

Elspeth is a Grimm, a descendent of the brothers who purged this world of monsters by trapping them within the Concord. She is the Oracle. A keeper of all the knowledge we have amassed about the creatures of the Fae and other worlds. And someone intent on destroying the Concord has murdered her!

When Ashley looks through the goggles that night she sees curious creatures on the roof of the house across the street watching her. To the naked eye they look like crows but they are not. It is the first glimpse of the other place—the place where she will finally belong.
The journal is crammed full of things, but there's no actual writing in it. Ash decides she's going to use the book as a journal, and begins the first entry: My name is Ashley Hawthorne. The ink fades so she writes it again. My name is Ashley Hawthorne. Again the ink fades. She tries again and again until the ink scratches out an entirely different first line: That is not who you are!
Moonlands is about Ashley Hawthorne who lives in London but feels like she doesn't quite belong. She feels this even more after she attends the reading of her eccentric aunt's will in which she is named as a beneficiary.  She is being given the key to a safety deposit box. As she sets out to discover the contents of the box other people are watching her and some aren't human!
Blackwater Blaze is an alpha wolf sent with four members of his pack from the Moorlands on a deadly mission to kill Ashley. His approach from the moongate is met by unexpected opposition, his pack members are all killed and he is given a warning and a message. He starts to suspect treachery is afoot with him a tool in its execution. Should he complete his mission or fight for what he knows is right?
Many of the characters were interesting and if you enjoy urban fantasy, werewolves and magic then you will definitely enjoy picking up this book. It was fast-paced, interesting and it did keep me turning the page to find out more. Overall I think this book was pretty good. Which means you guys should check it out.
Related Posts