I received this book for free from Reviewer Purchase in exchange for an honest review. This does not affect my opinion of the book or the content of my review.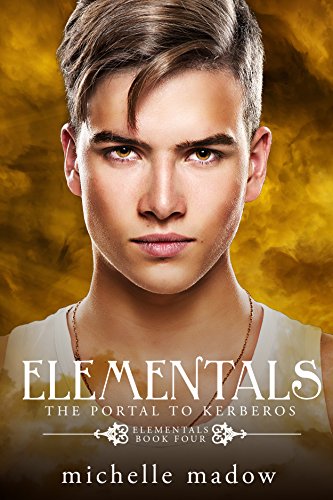 The Portal to Kerberos
by
Michelle Madow
Series:
Elementals #4
Published by
Dreamscape Publishing
on 9/10/16
Genres:
Fantasy & Magic
,
Mythology
,
Romance
,
Young Adult
Pages:
270
Format:
eBook
Source:
Reviewer Purchase
Buy the Book
•


After being betrayed by one of their own, Nicole watches helplessly as Blake is snatched into the prison world of Kerberos—along with Medusa's head, which is the one item they need to stop the Titans from rising again. Now Nicole and the other Elementals must enter the portal, find Blake, and bring him and Medusa's head back to Earth before the deadly monster Typhon returns and wreaks havoc on the world. But there's one catch—their elemental powers don't work in Kerberos. In a dimension designed to make those within it lose touch with reality, and that's filled with dangerous creatures who want to stop them from completing their task, will they make it out alive?
Short and Sweet
The Portal to Kerberos starts right where the last book left. In this book we follow Nicole, Danielle, and Chris into Kerboros as they try to find Ethan and Blake, to save Blake and Medusa's head.
My Thoughts
~ This book is such a roller coaster ride it's fast paced and fun to read.
~ In Kerboros the team meets a new ally, Erebus the primordial deity of darkness.
~ It was interesting seeing how the elementals would adjust to being in Kerboros especially because their powers don't work there.
~ The world building in this book was great, it was a step up from the previous book.
~ I think there was more of a bond between the three, especially after what they've been through.
~ We finally get to meet Apollo, which was nice I liked seeing Nicole's interaction with him.
~ What really surprised me was Danielle and Erebus' feelings for each other.
~ This was probably their most dangerous journey and I enjoyed being able to go with them. The writing makes it feel like you're trekking through Kerboros with them.
Overall
The cliffhanger killed me, I just wanted more. I want the next book (which actually comes out soon). I would highly recommend this series, these books are action packed and fast paced. If you like mythology and action this series is for you. I recommend reading them in order they'll make more sense that way!
Related Posts