I received this book for free from Publisher in exchange for an honest review. This does not affect my opinion of the book or the content of my review.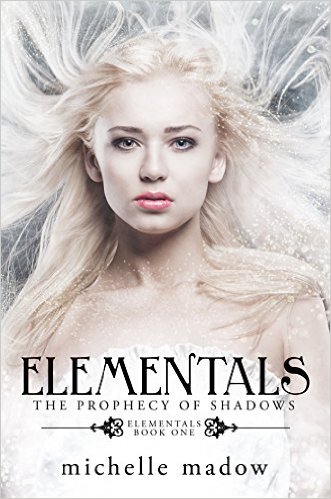 The Prophecy of Shadows
by
Michelle Madow
Series:
Elementals #1
Published by
Dreamscape Publishing
on 1/26/16
Genres:
Fantasy & Magic
,
Mythology
,
Romance
,
Young Adult
Pages:
199
Source:
Publisher
Buy the Book
•


When Nicole Cassidy moves from sunny Georgia to gloomy New England, the last thing she expects is to learn that her homeroom is a cover for a secret coven of witches. Even more surprisingly ... she's apparently a witch herself. Despite doubts about her newfound abilities, Nicole is welcomed into this ancient circle of witches and is bedazzled by their powers--and, to her dismay, by Blake--the school's notorious bad-boy.

Girls who get close to Blake wind up hurt. His girlfriend Danielle will do anything to keep them away, even if she must resort to using dark magic. But the chemistry between Blake and Nicole is undeniable, and despite wanting to protect Nicole from Danielle's wrath, he finds it impossible to keep his distance.

When the Olympian Comet shoots through the sky for the first time in three thousand years, Nicole, Blake, Danielle, and two others in their homeroom are gifted with mysterious powers. But the comet has another effect--it opens the portal to the prison world that has contained the Titans for centuries. After an ancient monster escapes and attacks Nicole and Blake, it's up to them and the others to follow the clues from a cryptic prophecy so that they can save their town ... and possibly the world.
After Nicole Cassidy and her family move from Georgia to Salem she gets quite a shock on her first day of classes in her new school. When handed her schedule Nicole sees she's been placed in all honors classes and feels it must be some kind of mistake but is told she won't be able to change until the end of the day. When entering her homeroom a bomb is dropped on Nicole and she is told she's a witch and so are the rest of the kids in her homeroom. 
One night her homeroom class meets at the teachers house to watch the Olympian Comet that only comes around every three thousand years.. The class has to break into groups of 5 people. Nichole's group feels something strange and they are gifted with mysterious powers. These mysterious powers comes with a great price to pay. After learning that the group is now gifted with new powers they realize that with these new powers they have to go on a quest. I enjoyed the characters and the premise. The only thing I'm not so sure about is the relationship between Nicole and Blake I just don't see it. Nicole was an enjoyable character I mean she was shocked about being a witch but she embraced it and she was a natural at using her newfound powers. The book was pretty predictable it was easy to find out clues on what would happen next, who would do what, and how things came together. There were a few times that I was genuinely caught off guard, particularly towards the ending and final climax of this story. Overall I enjoyed this book I liked how there was a mix between witches and Greek mythology it was interesting to see how the two intertwined. The book was shorter than I thought it was so I breezed through it. I definitely enjoyed the first installment in this new series and I can't wait to see what happens in the book!
Related Posts