I received this book for free from Reviewer Purchase in exchange for an honest review. This does not affect my opinion of the book or the content of my review.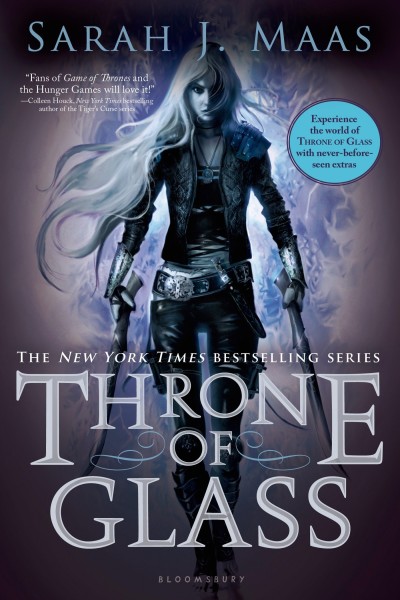 Throne of Glass
by
Sarah J. Maas
Series:
Throne of Glass #1
Published by
Bloomsbury Publishing
on 5/7/13
Genres:
Fantasy & Magic
,
Romance
,
Young Adult
Pages:
432
Source:
Reviewer Purchase
Buy the Book
•


In a land without magic, where the king rules with an iron hand, Celaena, an assassin, is summoned to the castle. She comes not to kill the king, but to win her freedom. If she defeats twenty-three killers, thieves, and warriors in a competition, she is released from prison to serve as the king's champion. The Crown Prince will provoke her. The Captain of the Guard will protect her. But something evil dwells in the castle of glass—and it's there to kill. When her competitors start dying one by one, Celaena's fight for freedom becomes a fight for survival, and a desperate quest to root out the evil before it destroys her world.
So I read Throne of Glass a while back and I recently realized I didn't write a review for it. I'm currently reading Crown of Midnight the second book in the series and then it clicked, this series is AMAZING! Throne of Glass starts with our heroine Celaena Sardothien a former assassin turned prisoner. Celaena spends everyday in the Salt Mines of Endovier. At this point Celaena has given up on hoping for freedom, until The Crown Prince (Dorian) and The Captain of the Guard (Chaol) come to her with a proposition. If Celaena fights in a competition and wins she'll become the Kings Champion for four years, and she'll earn her freedom. It's an offer Celaena can't resist. When Celaena arrives at the Glass Castle she learns things won't be as simple as she thought. Some dark evil is at work in the King's castle and is killing off the competitors one by one. Throne of Glass is an awesome book! Celaena is funny, smart, and kick-ass. The romance interest are both great in their own ways. The ending was totally surprising. I plan on reading the other 3 books in the series. I would recommend this book to people who also liked Graceling or Grave Mercy.
Related Posts