I received this book for free from Publisher in exchange for an honest review. This does not affect my opinion of the book or the content of my review.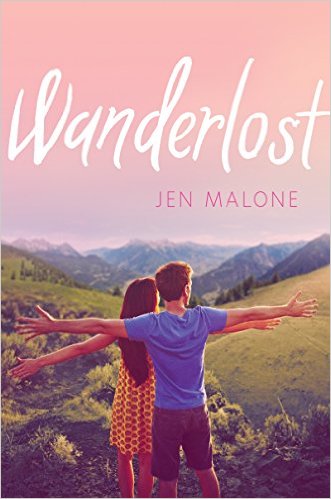 Wanderlost
by
Jen Malone
Published by
HarperTeen
on 5/31/16
Genres:
Contemporary
,
Romance
,
Young Adult
Pages:
352
Format:
ARC
Source:
Publisher
Buy the Book
•


Aubree can't think of a better place to be than in perfectly boring Ohio, and she's ready for a relaxing summer. But when her older sister, Elizabeth, gets into real trouble, Aubree is talked into taking over Elizabeth's summer job, leading a group of senior citizens on a bus tour through Europe.

Aubree doesn't even make it to the first stop in Amsterdam before their perfect plan unravels, leaving her with no phone, no carefully prepared binder full of helpful facts, and an unexpected guest: the tour company owner's son, Sam. Considering she's pretending to be Elizabeth, she absolutely shouldn't fall for him, but she can't help it, especially with the most romantic European cities as the backdrop for their love story.

But her relationship with Sam is threatening to ruin her relationship with her sister, and she feels like she's letting both of them down. Aubree knows this trip may show her who she really is—she just hopes she likes where she ends up.
Short and Sweet
When Aubree's older sister Elizabeth gets in trouble, Aubree has to go to Europe impersonating her sister and take over her job as a tour guide. Right from the start things don't go as planned when Aubree leaves her phone and a binder full of information on tour stops on the plane, and when the tour company owner's son joins the tour unexpectedly.
My Thoughts
~ I felt a little bad for Aubree, she was put in a difficult position. She had to drop everything and leave the country to help her sister when she's never even left the state of Ohio.
~ I loved the senior citizens they were all nice and had different personalities and we learn more about them over the course of the book. They were also nice and understanding and helped Aubree out a lot, I think they also helped her grow over the course of the book.
~ The locations that the tour group visits were portrayed vividly it feels like you could be with them going around Europe.
~ Sam, Aubree's love interest in the book was nice, funny, and charming. I loved him from the moment they had their first phone conversation.
Overall
Wanderlost is a contemporary that's funny and a great read for the summer. It also has a strong message which the senior citizens helped Aubree learn. I would love to see another book or novella maybe about Aubree and Sam's relationship and how it progresses when they're back in the states. I would recommend this book and its a perfect time to read it now because its summer!
Related Posts