I received this book for free from Reviewer Purchase in exchange for an honest review. This does not affect my opinion of the book or the content of my review.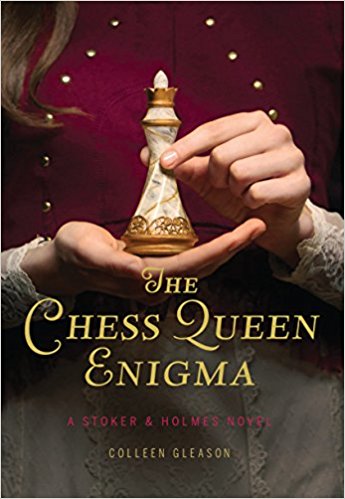 The Chess Queen Enigma
by
Colleen Gleason
Series:
Stoker & Holmes #3
Published by
Chronicle Books
on 10/6/15
Genres:
Fantasy & Magic
,
Mystery & Detective
,
Paranormal
,
Romance
,
Science Fiction
,
Young Adult
Pages:
360
Format:
Hardcover
Source:
Reviewer Purchase
Buy the Book
•


Evaline Stoker and Mina Holmes never meant to get into the family business. But when you're the sister of Bram and the niece of Sherlock, vampire hunting and mystery solving are in your blood, so to speak.

In this third installment of the Stoker and Holmes series, Evaline Stoker and Mina Holmes have reluctantly agreed to act as social chaperones and undercover bodyguards for Princess Lurelia of Betrovia, who has arrived in London to deliver a letter that details the secret location of an ancient chess queen that's been missing for centuries. But when the letter—which will heal a centuries-old rift between England and the Betrovians—is stolen out from under Evaline and Mina's watchful eyes, the two girls are forced into a high-stakes race to ensure they find the chess queen before anyone else does.
Short and Sweet Review
Mina and Evaline are asked to be social chaperones for princess Lurelia of Betrovia, the only problem is the princess seems to be dull and boring. Not only do the two girls have to worry about watching the princess, they're also trying to find a chess piece that has been missing for centuries before their foe the Ankh gets to it. This is my favorite book in the series so far! There was so much going on that it just held my attention and made me wonder what was going to happen next. There were a few storylines in this book, one involving the princess and the chess piece and one that involved Pix and his mysterious device which was mentioned in book two. The Ankh is also back, and I felt bad for Mina because it always seemed like the Ankh was one step ahead of her. Mina and Evaline are still growing and in this book I felt like they respected each other more, which lead them to work better as partners. We got to see more of Grayling, I enjoy scenes with him and the interactions he had with Mina. This book was my favorite and I can't wait until book four is released! I highly recommend this series especially if you love mysteries!
Related Posts