I received this book for free from Reviewer Purchase in exchange for an honest review. This does not affect my opinion of the book or the content of my review.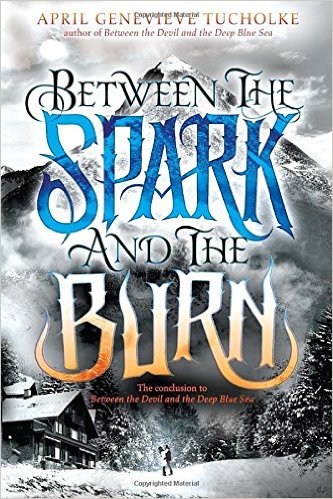 Between the Spark and the Burn
by
April Genevieve Tucholke
Series:
Between #2
Published by
Speak
on 8/4/15
Genres:
Fantasy & Magic
,
Gothic
,
Paranormal
,
Romance
,
Young Adult
Pages:
352
Format:
Paperback
Source:
Reviewer Purchase
Buy the Book
•


The crooked-smiling liar River West Redding, who drove into Violet's life one summer day and shook her world to pieces, is gone. Violet and Neely, River's other brother, are left to worry—until they catch a two a.m. radio program about strange events in a distant mountain town. They take off in search of River but are always a step behind, finding instead frenzied towns, witch hunts, and a wind-whipped island with the thrum of something strange and dangerous just under the surface. It isn't long before Violet begins to wonder if Neely, the one Redding brother she thought trustworthy, has been hiding a secret of his own . . .
Short and Sweet
After the events from the last book Violet can't stop thinking about River. The gang decides to leave Citizen Kane and go looking for River in different towns where strange things are happening.
My Thoughts
~ My favorite part of this book was the road trip the group is following leads to different places just to find River. The gang gets these leads from a radio show that only Neely and Violet are into listening.
~ We meet new characters in these towns where the gang visits. I feel like Violet is way too trusting of strangers. I don't want to spoil anything but if you read the book you'll know what I mean.
~ Violet finds Freddie's diary and learns more about her grandmothers past and about her experiences with the "glow."
~ I definitely enjoyed this book more than the first book. The world building was amazing. We get to go to mountains, towns near the sea, and another quint town that resembles Echo.
~ There was more character development in this book. Violet was more brave and tried to take things head on and Neely gets more of a focus in this book.
~ I didn't like the romance in this book either. Violet was with Neely a lot in this book and I think she was just using him until she got back to River.
~ I liked Neely, we learn he has a lot of love for his family especially his brothers. Neely would use his power to counteract what his brother's power was doing, even if it was slowly killing him.
Overall
This sequel is worth the read! The writing in this book is beautiful. The ending was a bit open ended and left you to use your imagination as to what would happen next. This book was enjoyable and entertaining. Check this duology out if you haven't!!!
Related Posts