I received this book for free from Reviewer Purchase in exchange for an honest review. This does not affect my opinion of the book or the content of my review.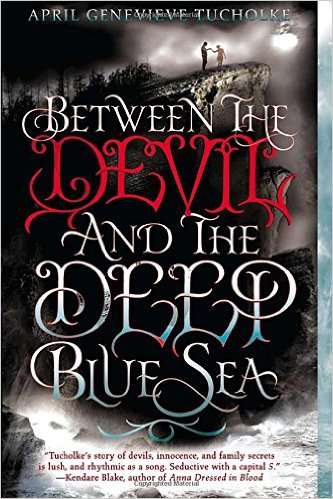 Between the Devil and the Deep Blue Sea
by
April Genevieve Tucholke
Series:
Between #1
Published by
Speak
on 7/3/14
Genres:
Fantasy & Magic
,
Gothic
,
Paranormal
,
Romance
,
Young Adult
Pages:
384
Format:
Hardcover
Source:
Reviewer Purchase
Buy the Book
•


Nothing much exciting rolls through Violet White's sleepy, seaside town... until River West comes along. River rents the guesthouse behind Violet's crumbling estate, and as eerie, grim things start to happen, Violet begins to wonder about the boy living in her backyard. Is River just a crooked-smiling liar with pretty eyes and a mysterious past? Or could he be something more? Violet's grandmother always warned her about the Devil, but she never said he could be a dark-haired boy who takes naps in the sun, who likes coffee, who kisses you in a cemetery...who makes you want to kiss back. Violet's already so knee-deep in love, she can't see straight. And that's just how River likes it.
Short and Sweet
Violet White and her brother Luke have lived in Echo their whole life. When their parents travel around the world to get inspiration for their art they leave the twins by themselves in the small town. When a mysterious and gorgeous boy named River rents the room in mansion, Violet realizes he's not just any normal boy.
My Thoughts
~ The setting is what made the story for me, the atmosphere in the town was creepy and this small town had a lot of secrets.
~ Violet was a unique main character she was very perspective and always noticed the smallest details.
~ I didn't like the romance between Violet and River, it felt like River was using his powers to make Violet do things.
~ When River arrives in town strange things start happening like kids hunting the devil in the graveyard.
~ River's power was weird and it was hard for me to understand, he could manipulate what people saw and felt, especially Violet. I didn't like how Violet knew that River was manipulating her feelings but did nothing about it.
~ There were quite a few side characters so there wasn't much room for character development in this book.
~ I was a bit annoyed with some characters, mainly Luke. I didn't like some of the things he said to Violet and I feel like some of the other characters would pile onto his insults.
~ There were twist in the plot that I wasn't expecting that kept me reading.
~ The ending was… I don't know how to describe the ending. It just made you wonder who you could trust because most of the people in the town were being manipulated by these powers.
Overall
I enjoyed this book, it was different from anything I've read. What kept me reading was the intriguing plot and it made me want to know what was going to happen next. I plan on reading the sequel just to see how things plan out.
Related Posts