I received this book for free from Reviewer Purchase in exchange for an honest review. This does not affect my opinion of the book or the content of my review.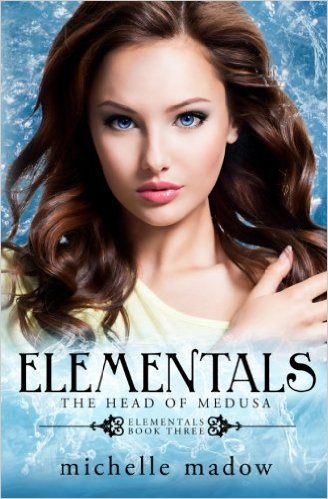 The Head of Medusa
by
Michelle Madow
Series:
Elementals #3
Published by
Dreamscape Publishing
on 6/22/16
Genres:
Fantasy & Magic
,
Mythology
,
Paranormal
,
Romance
,
Young Adult
Pages:
278
Format:
eBook
Source:
Reviewer Purchase
Buy the Book
•


When Nicole Cassidy moved to a new town, she discovered that she was a witch descended from gods. But that was nothing compared to learning that it was up to her and four others with mysterious elemental powers to help save the world from the Titans, who would soon return to Earth.

Now her relationship with Blake -- the fire Elemental -- is finally heating up. But she must remain focused, because Typhon, one of the deadliest creatures in history, has escaped from the weakening prison world. Only one object can destroy him -- the head of Medusa herself.
Short and Sweet
The Elementals are back and with a whole new mission. The group has to stop Typhon's Soul from reuniting from his body and the only way to stop this from happening is to find Medusa and get her head. With every choice the group makes they're either saving the world or putting it in danger.
My Thoughts
~ In each book there's more Greek mythology and it was interesting to learn more about each Greek figure the Elementals will encounter.
~ The romance between Nicole and Blake was definitely more prominent in this book. I really like their relationship and the little moments they shared especially when they support each other.
~ We get to see the group use their powers in more advanced ways, and it's amazing to see how the group grows in each book.
~ My favorite thing about the books is seeing where the group will go they're always going to different locations and its fun to see where they'll end up next.
~ By the way I was trying to figure out who was on each book cover and then I realized that each characters element is behind them in the cover, super cool!
Overall
The Head of Medusa was fast paced, I finished it in one sitting. There were a lot of plot twist that I didn't see coming, I'm looking forward to see what will happen in book four! These books are so much fun to read I love this series I would recommend the series!
Related Posts