I received this book for free from Author in exchange for an honest review. This does not affect my opinion of the book or the content of my review.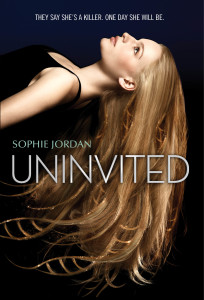 Uninvited
by
Sophie Jordan
Published by
HarperCollins
on 2014-01-28
Genres:
Action & Adventure
,
Love & Romance
,
Science Fiction
,
Young Adult
Pages:
384
Format:
Paperback
Source:
Author
Buy the Book
•
Goodreads
Reviewed by Miranda

From New York Times bestselling author Sophie Jordan, Uninvited is a chilling and suspenseful story about a girl whose DNA brands her as a killer, perfect for fans of The Unbecoming of Mara Dyer and Confessions of a Murder Suspect.Davy had everything—a terrific boyfriend, the homecoming crown, a bright future at Juilliard—but when her genetic tests come back positive for Homicidal Tendency Syndrome, she loses it all. Uninvited from her prestigious school and avoided by her friends and family, she is placed in a special class with other
I had the honor of receiving an ARC of Ms. Jordan's upcoming novel UNINVITED at Authors After Dark. I have been so busy I didn't have the chance to read it until Christmas Eve. I finished it within 24 hours because WOW it is so fantastic! Sophie Jordan has an award winning book on her hands. UNINVITED hits shelves in January and you do not want to miss out! UNINVITED'S tagline is "They Say She's A Killer, One Day She Will Be." This is one great tagline. It creates the perfect amount of intrigue. While reading UNINVITED you will ask yourself a bunch of questions about how we define ourselves and how far we will go to survive?! UNINVITED is beautifully written by Ms. Jordan's brilliant pen. UNINVITED is by far the best young adult novel I have read this year. It gave me exciting chills the likes of which I haven't had since I read, The Hunger Games.
UNINVITED gives the reader a feast filled with heady topics, chilling suspense and a one-of-a-kind romance. I fully expect the characters, Davina "Davy" Hamilton and Sean O'Rourke to become the next "YA It Couple!" One of the many things that make this a wonderful novel is the fact that there is no angst-ridden love triangle like most YA novels. Davy Hamilton is one smart and savvy teenager. Unfortunately, her world gets turned upside down in an instant and she is forced to learn a new way of living. Sean O'Rourke is a no-nonsense type of guy who has worked for everything he has. Sparks fly when these two are on the page together. I absolutely love them! I'm actually thinking about reading it again because it went by too fast! UNINVITED took my breath away with its invigorating five-star romance! Sophie Jordan rocked my world with UNINVITED! I cannot wait to find out what happens next!!
Xoxo,
Miranda
Related Posts