I received this book for free from Publisher in exchange for an honest review. This does not affect my opinion of the book or the content of my review.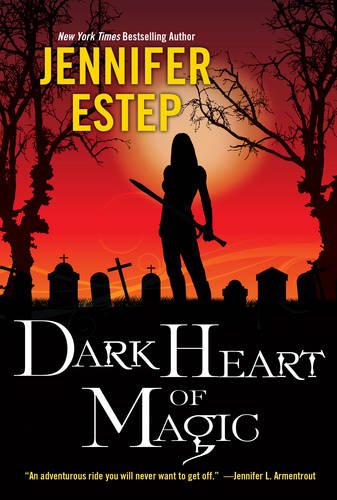 Dark Heart of Magic
by
Jennifer Estep
Series:
Black Blade #2
Published by
Kensington Books
Genres:
Fantasy & Magic
,
Paranormal
,
Young Adult
Source:
Publisher
Buy the Book
•


As a thief, I stick to the shadows as much as possible. But when the head of the Sinclair Family picks me to compete in the Tournament of Blades, there's no escaping the spotlight—or the danger. Even though he's my competition, Devon Sinclair thinks I have the best shot of winning what's supposed to be a friendly contest. But when the competitors start having mysterious "accidents", it looks like someone will do anything to win—no matter who they hurt.As if I didn't have enough to worry about, mobster Victor Draconi is plotting against Devon and the rest of my friends, and someone's going around Cloudburst Falls murdering monsters. One thing's for sure. Sometimes, humans can be more monstrous than anything else …
This book was so good! Dark Heart of Magic is one of my favorites this year! So much goes down in this book!  I felt like I wasn't reading fast enough.  Guys things happen so fast in this book! The Tournament of Blades is going on and Lila has been chosen to be in it and someone is going around killing monsters. I can't say how much I Loved this book!! I felt like I was there and I needed a sword as well.  Also, the mystery aspect didn't hurt.  I love my mysteries. We also learn a lot about some of the characters that made my jaw drop, but it was all good. I'm happy with the way Devon & Lila's romance has progressed (I ship it) and they are in an optimal spot going into the conclusion.  I loved this book and I think everyone should read it.  I'd read it again in a heartbeat!  So go buy it and read it, and if you haven't read the first book in the series Cold Burn of Magic pick it up and marathon them both! I need the third book in my hands NOW!  I feel like there's a hole in my heart haha. Dark Heart of Magic is definitely a must read! Ms. Estep, please keep the Black Blade series coming!
Check out this Exclusive Audible Clip from DARK HEART OF MAGIC by Jennifer Estep
Thank you to the fine people at Audible for sharing this with us!! Purchase at Audible.com.
Related Posts