I received this book for free from Publisher in exchange for an honest review. This does not affect my opinion of the book or the content of my review.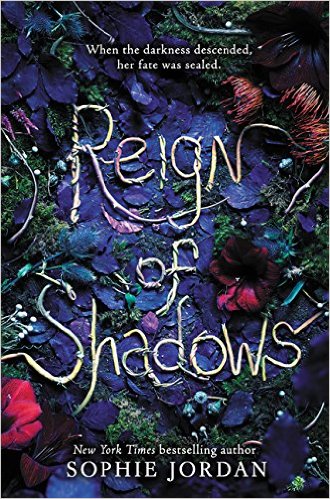 Reign of Shadows
by
Sophie Jordan
Series:
Reign of Shadows #1
Published by
HarperTeen
on 2/9/16
Genres:
Action & Adventure
,
Fairy Tales & Folklore
,
Fantasy & Magic
,
Romance
,
Young Adult
Pages:
304
Source:
Publisher
Buy the Book
•


Seventeen years ago, an eclipse cloaked the kingdom of Relhok in perpetual darkness. In the chaos, an evil chancellor murdered the king and queen and seized their throne. Luna, Relhok's lost princess, has been hiding in a tower ever since. Luna's survival depends on the world believing she is dead.

But that doesn't stop Luna from wanting more. When she meets Fowler, a mysterious archer braving the woods outside her tower, Luna is drawn to him despite the risk. When the tower is attacked, Luna and Fowler escape together. But this world of darkness is more treacherous than Luna ever realized.

With every threat stacked against them, Luna and Fowler find solace in each other. But with secrets still unspoken between them, falling in love might be their most dangerous journey yet.
I really love Sophie Jordan and her writing. Reign of Shadows presents a very unique world where people live in darkness and in fear of the monsters that lurk. Luna has been hiding in the tower all her life. Keeping her identity a secret after the world has been cloaked in an almost permanent eclipse.
 I really enjoyed learning about Luna. She was a strong heroine completely capable of handling herself in fighting situations. A bit stubborn in situations and definitely proud of who she is and what she's been forced to endure during her lifetime. Of course being cooped up all her life in the tower. And it's no surprise she wants to venture out. But you can imagine that doesn't turn out well for her and she finds herself on the run after her tower is invaded and those she was raised by are taken from her. It's nice to see how she grows for the duration of this book. She isn't quite the same person, by the end of the book. She'd never been away from her tower for so long and so far, and the experiences Outside have changed her. And yet, she still has all of her internal light and goodness. Fowler is our other protagonist. This book is written in first-person dual POV, switching between Luna and Fowler. I liked both of their POV's. Fowler is gruff and stern and serious, and he has secrets of his own. He doesn't let anyone past his walls, and he doesn't show much emotion. He doesn't want to be Luna's friend but when he's saved by Luna, he has a bit of debt to her. Fowler is the way he is because of life in the eclipse; he's hardened and determined to find a better life in Allu, free of dwellers (creatures that started to appear after the eclipse).
The world is very different in this fantasy, its not like an other fantasy I've read before.
The pacing of the book is fast with lots of action and it didn't take long to read I breezed through it.
Of course I need to read the next book! That ending and huge cliffhanger left me wanting more. There's no way you will not want to read on once you see what happens.
Related Posts