I received this book for free from Publisher in exchange for an honest review. This does not affect my opinion of the book or the content of my review.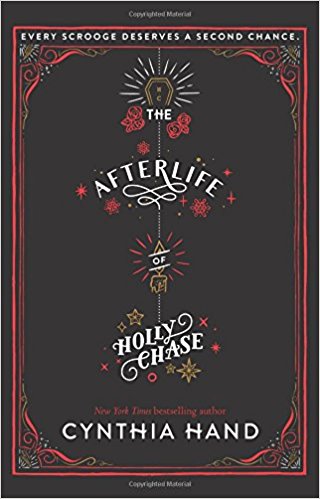 The Afterlife of Holly Chase
by
Cynthia Hand
Published by
HarperTeen
on 10/24/17
Genres:
Fantasy & Magic
,
Young Adult
Pages:
400
Format:
eARC
Source:
Publisher
Buy the Book
•


On Christmas Eve five years ago, seventeen-year-old Holly Chase was visited by three Ghosts who showed her how selfish and spoiled she'd become. They tried to convince her to mend her ways. She didn't. And then she died.

Now she's stuck working for the top-secret company Project Scrooge—as their latest Ghost of Christmas Past. So far, Holly's afterlife has been miserable. But this year's Scrooge is different. This year's Scrooge might change everything…
Short and Sweet
Every year Project Scrooge picks a new Scrooge to help reform. Holly Chase our main character learned the hard way that not changing her scrooge ways would result in an afterlife she wasn't expecting. Now as the Ghost of Christmas Past, Holly is tasked with helping other scrooges change their ways, but this years scrooge is different from the ones before.
Characters
Holly: Holly is an interesting character, I didn't think she was the best main character she came across as if she thought she was better than everyone else and I just couldn't relate to her. I thought she was an interesting character because she was a failed scrooge and is now working at project scrooge to help other scrooges change their ways before its too late, but even though you would think that because she got the job of Ghost of Christmas Past maybe she would be nicer or something… shes not. I think that's what disappointed me the most about her character was the lack of character development throughout the story.
Ethan: This years scrooge and Holly's love interest. Ethan is wealthy and like Holly thinks he's better than other people he was also just mean. There's not much else to say about Ethan he was shown in a good light probably because the book was in Holly's POV and she thought that they were a match made in heaven.
Stephanie: Stephanie is an intern at project scrooge for the year and becomes Holly's assistant. I loved Stephanie she was optimistic and happy, but I felt bad because Holly did not treat her well.
Boz: Holly's boss and the man who runs project scrooge.
Romance
Holly and Ethan: This relationship was built upon lies. So people that work for project scrooge aren't supposed to meet the scrooges until Christmas morning when the project takes place. Holly decides to break the rules and meet with Ethan even though she knows she shouldn't, so she takes it upon herself to enlist her Stephanie's help and find Ethan's daily schedule and find out when he's being watched and where he goes during the day. When Holly finally meets Ethan she goes by Victoria. Let me just say Holly isn't the only one telling lies in this relationship, Ethan lies about his family and its just so hard to read because you're basically just reading about two people who "really like" each other but are lying to each others faces. This relationship was meant to crumble from the very beginning.
Quotes
~ "He came from a good family, and by good I mean rich." Is this quote not ridiculous to anyone else? Literally! Like he came from a good family because they're rich?! At the very moment I read this from the book I had to put it down. This is how I knew Holly Chase did not change ONE BIT.
My Thoughts
~ Let me just say that I love the idea of this book, to have a project scrooge and to help scrooges find the good in themselves. I just don't understand why they would hire Holly when she herself hasn't changed (I mean I find out in the end).
~ I didn't like the romance, like I said earlier the two may have liked each other but it was all lies, well maybe not for Holly because she actually liked him but still she was lying about who she was.
~ I did like the other characters that we meet in the book like Grant and Marty from Holly's team.
~ It was interesting to see how things progressed in the book and how the members of project scrooge found out information about the scrooges life.
~ I will say I did like the ending it surprised me and I wasn't expecting it.
Overall
I think this would be a good book for the holiday season for some, but unfortunately I wasn't a big fan. I really wanted to like this book but some of the things that happened just put me off. What I would have liked was more character development from Holly, because she honestly didn't change and I felt like I was seeing her be a during most of the book. Overall it was an okay book, it's not one I would read again though.