I received this book for free from Reviewer Purchase in exchange for an honest review. This does not affect my opinion of the book or the content of my review.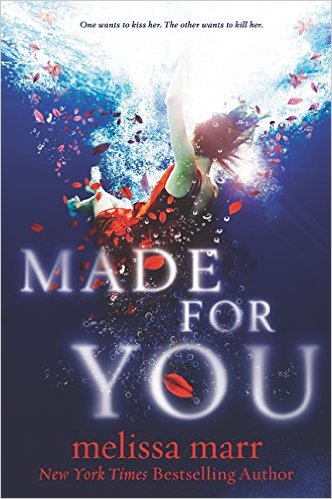 Made for You
by
Melissa Marr
Published by
HarperCollins
on 1/5/16
Genres:
Fantasy & Magic
,
Mystery & Detective
,
Romance
,
Thrillers
,
Young Adult
Pages:
384
Format:
Hardcover
Source:
Reviewer Purchase
Buy the Book
•


Eva Tilling wakes up in the hospital to discover she possesses a strange new skill—the ability to foresee people's deaths when they touch her. While she is recovering from her hit-and-run accident, Nate, an old flame, reappears, and the two must traverse their rocky past as they figure out how to use Eva's power to keep their friends—and each other—from falling into the hands of a killer.
Short and Sweet
Made For You is about Eva who survived an attempt at her life, and the killer who was responsible for it and is still after her. After the attempt at her life, Eva and her friends find themselves in danger. Eva tries to find the killer before he attacks again.
My Thoughts
~ Made for You is told in a dual narrative, one POV is Eva and the other is of the actual killer.
~ I liked reading from the killer's chapters, we get to see what's going on in their head, but we don't know their identity.
~ There is a paranormal aspect because Eva can now see how people die.
~ Eva was realistic and lovable, she wanted to know what was happening and she cares enough  about her friends to she help them even if it put her in danger.
~ I  liked Nate he was sweet and genuinely cared for Eva. I loved that this two childhood friends reunited.
~ I couldn't put it down it was a thriller that was believable.
~ The mystery was well done and I didn't have a clue about who the killer was until I got closer to the end.
Overall
The story line was realistic and things play out in a realistic way. This book will keep you on the edge of your seat! I enjoyed it and would recommend it if you like mysteries, thrillers, that have a paranormal aspect.
Related Posts